French architect Jean Nuovel designs Rooms of Rome for Fondazione Alda Fendi – Esperimenti near Circus Maximus.
On 5 October a mysterious rhinoceros appeared in front of the Arch of Janus at the Forum Boarium, between the Circus Maximus and the Temple of Portunus.
The lifesize resin sculpture heralded the opening of the new base for the Fondazione Alda Fendi - Esperimenti, whose gallery is called Palazzo Rhinoceros, in the adjacent building on Via del Velabro 9.
The six-storey structure is an amalgamation of existing buildings, parts of which date to the 17th-century, now transformed into 24 exclusive apartments along with exhibition and performance spaces by French architect Jean Nouvel, who has retained ancient elements in his cutting-edge design. Spanish entrepreneur Kike Sarasola has been entrusted with the management of the apartments, known as the Rooms of Rome, and the rooftop restaurant, Caviar Kaspia Roma, which will serve Russian-inspired specialties such as caviar as well as Italian cuisine when it opens later this year.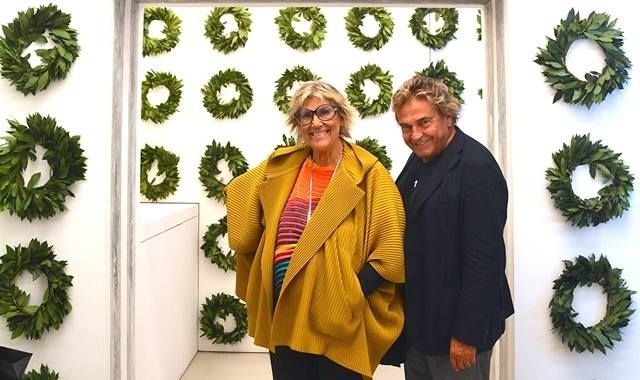 Fondazione Alda Fendi – Esperimenti is a non-profit arts foundation created by Alda Fendi, of the famous Roman fashion dynasty, under the creative direction of Raffaele Curi. Established in 2001, the foundation has staged free exhibitions and performances, showcasing international talents from the worlds of music, dance, film, theatre, opera and the visual arts.
Rhinoceros, the foundation's art gallery, is open to the public every day from 10.00 to 19.00, until 13 December. Its inaugural exhibition is a collection of original Michelangelo drawings and designs relating to the Tomb of Julius II, on loan from the Casa Buonarroti in Florence.
Fendi is the latest entrepreneur to enrich the capital with a privately-owned centre of art, following Claudio and Elena Cerasi's opening of Palazzo Merulana in May and the launch of Musia living (&) arts by Ovidio Jacorossi last year.
For full details see Fondazione Alda Fendi – Esperimenti website.
General Info
Address
Foro Traiano, 1, 00187 Roma RM, Italy
View on Map
Alda Fendi opens Palazzo Rhinoceros in central Rome
Foro Traiano, 1, 00187 Roma RM, Italy