Memories of Medieval Rome are waiting to be discovered in the churches on the Esquiline Hill. Breathtaking marbles and mosaics in an explosion of colors revealing the roots of Christian art.
The Basilica of S. Maria Maggiore was built in the 5th century and dedicated to the Virgin Mary, shortly after the Council of Ephesus (431 A.D.), where it was decided that she was "Theotocos", birth giver of God, mother of Jesus in his two natures: human and divine. The Basilica, one of the most beautiful and important churches of the city, hosts many rests of its medieval times like mosaics (there is a mosaic cycle of the 5th century! Unique in Europe for its importance and quality), statues and an icon that tradition wants depicted by St. Luke.
In a narrow street just on the corner we find the church of Santa Prassede, a 9th century basilica that will surprise and charm us like a hidden gem just revealed. The atmosphere is of a place where time stopped, mysterious Byzantine mosaics are still filling the apse, frescoes are decorating the walls, and in a chapel, illuminated by the glowing gold of mosaics, the scourging column of Christ, a holy relic of his Passion brought from Jerusalem!
Another medieval church - dedicated to Santa Pudenziana, sister of Santa Prassede - is to be found in the same area. The church has in the apse a mosaic cycle that by the famous historian Gregorovius was considered the most beautiful of the city! And I agree! The colors and the figures are without equal, but what "hits" our curiosity is the surprising iconography: Christ wears a golden toga, the apostles are dressed like old roman senators and on the backdrop a charming blue sky is colored by the orange light of a sunset!
The Guide:
Christiaan, an art and history lover born and raised in Rome to an Italian father and a Dutch mother. I studied History of Art here in the Eternal City and then specialized in Religious Art at the Vatican. I am an official licensed tour guide thrilled to show the beauties of my hometown to the lucky visitors. If you are reading this, it means you booked your ticket to come to Italy, good for you! You'll love it!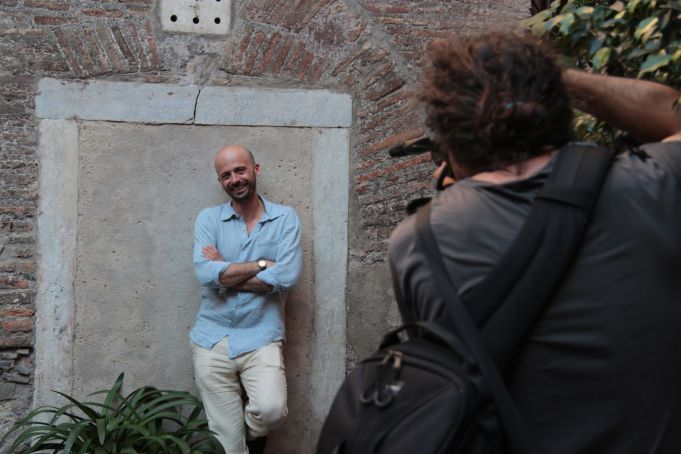 General Info
Address
Rome, Metropolitan City of Rome, Italy
View on Map
Hidden Middle ages Rome tour
Rome, Metropolitan City of Rome, Italy