By Kate Zagorski.
Colder temperatures, rainy days and darker evenings always bring with them a yearning for comfort food, and there is little more comforting than the humble meatball. Quick, easy and cheap to make, it seems every Italian family has their own tried-and-tested recipe. The variations are endless, from the type of meat used to the seasoning and even the cooking method.
This version uses ground mortadella along with minced beef and has a warming hint of mustard in the background which combines beautifully with a kick of red onion. Cooking the meatballs directly in the sauce rather than frying them first keeps the texture moist and tender as well as cutting down on dirty dishes.
The recipe below should also yield plenty of rich tomato sauce which makes the perfect accompaniment for pasta the next day.
Serves 4
For the meatballs (makes 16):
100g white bread, crusts removed
Milk
500g minced beef
150g mortadella
Half a red onion, very finely chopped
2 tbsp wholegrain mustard
Handful of grated parmesan
1 egg, beaten
Salt
Pepper
For the sauce:
Extra virgin olive oil
Half a red onion, very finely chopped
2 x 700g bottles of passata
Handful of fresh basil leaves
Salt
Pepper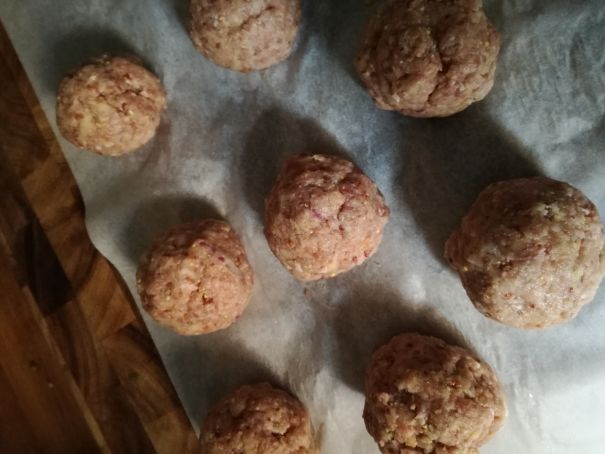 Place the bread in a small bowl and pour over just enough milk to soak it through. Then squeeze out the liquid and crumble the breadcrumbs into a large mixing bowl.
Blend the mortadella until almost a paste and add to the bowl along with the minced beef, red onion, mustard, parmesan and beaten egg. Season with salt and pepper and then, using your fingers, mix everything together until all the ingredients and evenly distributed.The mixture should be moist but not too sticky.
Use your hands to roll the mixture into equally sized balls, each one about the size of a golfball, and place on a tray lined with baking paper.
To make the sauce, heat a splash of olive oil in a large, wide saucepan and add the red onion. Cook gently for a few minutes until soft then add the passata and a few basil leaves. Season with salt and pepper and cook on a low-medium heat for about 10 minutes until just beginning to reduce. Carefully add the meatballs into the sauce and cover the saucepan with a lid. Continue to cook for another 15 minutes turning the meatballs over halfway through, being careful not to break them up.
Serve with a few fresh basil leaves to garnish.
Kate Zagorski has lived in Italy since 2000. Married to a food-obsessed Roman chef, she leads food tours and also works as a freelance food and travel writer.