Breaded beef strips with red onion and sage is a perfect dish for summer picnics.
By Kate Zagorski
While July may not seem the best time to embark upon a recipe which involves frying, it is worth suffering two or three minutes of heat to be rewarded with fettine panate. Usually served hot, fettine panate are thin slices of beef which are dipped in egg and breadcrumbs and fried until golden. This recipe gives them a summery twist and turns them into almost a kind of salad by cutting them into strips and mixing them with red onion, fresh sage leaves and a zing of vinegar, all gently cooked together to encourage the flavours to blend. Easy to make in advance and store in the fridge, they benefit hugely from a rest before eating so this recipe is a brilliant addition to buffets or picnics.
When buying the beef look for thin slices, the best are called 'girello' in Italian. If they are a little thick you can tenderise them by hitting them with a meat hammer, rolling pin or even the bottom of a tumbler or glass. The process of coating the slices can be messy but taking the time to make sure they have a good covering of breadcrumbs will help to give the finished dish a bit of bite.
For another variation, the fried fettine panate can also be left whole, topped with a little tomato passata and a slice of mozzarella (or mozzarella and mushrooms) and baked in the oven at 180°C for a few minutes until the mozzarella has melted before serving them hot as a second course.
Serves 4
4 thin slices of beef (approx 500g)
Flour
4 eggs, beaten
Fine breadcrumbs
1 lt vegetable oil, for frying
3 red onions, roughly sliced
25 fresh sage leaves
Extra virgin olive oil
Half a glass of white wine vinegar
Salt
Pepper
Prepare the ingredients for the coating; put a generous amount of flour in a large bowl, season with salt and pepper and mix well. Crack the eggs into a separate bowl and beat well with a fork or hand whisk. Pour breadcrumbs into a wide dish, tray or board.
Take the first slice of beef and coat it well in flour then dip it on both sides first in the egg and then in the breadcrumbs. Push the meat into the breadcrumbs with your fingers to ensure it is well-covered. Set aside and repeat the process with the remaining slices.
Heat the vegetable oil in a wide saucepan or large frying pan until it is boiling. Test by sticking a wooden toothpick into the oil, if small bubbles form around the toothpick the oil is ready. Carefully place the beef slices into the oil (you may have to do this one or two pieces at a time depending on the size of your pan) and fry for about 2 minutes, turning over once, until they are golden and crunchy.
Set the slices aside on a tray covered with kitchen paper to drain, sprinkle with salt and leave to cool.
Once the slices have cooled down, use scissors to cut them into strips about 2cm x 5cm.
In a large frying pan heat a good splash of olive oil and add the chopped red onion. Cook for a couple of minutes until it is just starting to soften then add the sage leaves, tearing any large ones in half. Cook for a minute and then add the beef strips and heat through.
Add the vinegar and cook everything together for another minute to combine the flavours.
Tip into a bowl and leave to cool down, then cover and place in the refrigerator until serving.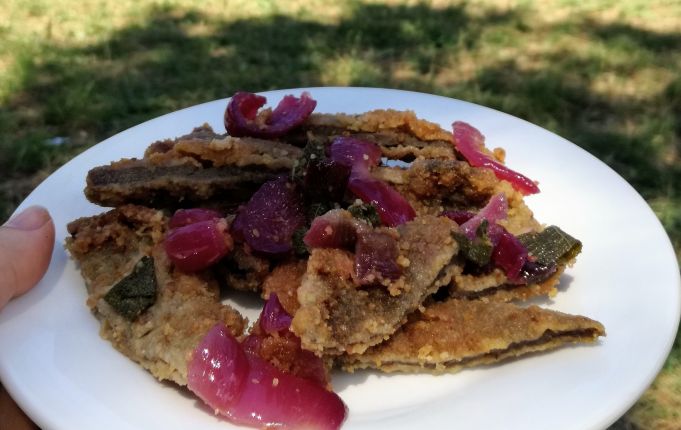 Kate Zagorski has lived in Italy since 2000. Married to a food-obsessed Roman chef, she leads food tours and also works as a freelance food and travel writer
.