Cheesecake al cioccolato bianco e zest di arancia
Chef Angelo Preziosi shares his recipe for white chocolate cheesecake with caramelised orange zest.
This is a simple but effective dessert which can easily be made in advance. Instead of orange zest you could also decorate the cheesecake with fresh raspberries or sliced strawberries.
Ingredients
180g digestive biscuits
75g melted butter
100g white chocolate
300g Philadelphia cream cheese
200ml whipping cream (panna da montare)
75g sugar + 5 extra tablespoons
5 oranges
Instructions
Blend or crush the digestive biscuits to a crumb and mix together with the melted butter.
Take a low-sided cake or pie tin (about 20cm diameter), pour in the biscuit crumbs and use a spoon to flatten down evenly until compact. Place the base into the freezer while you make the topping.
Put the white chocolate into a bowl, place on top of a saucepan of boiling water and stir gently until melted.
In a large bowl mix whisk together the Philadelphia, cream and sugar until it is thick and smooth, then add the melted chocolate and mix well.
Pour the mixture over the biscuit base and place into the fridge for at least two hours to set.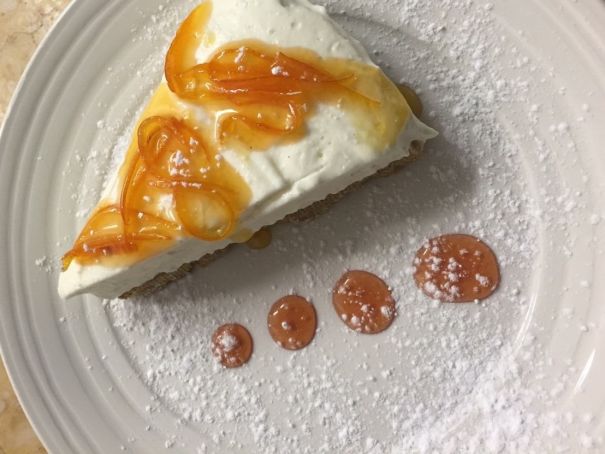 To make the orange zest, peel the oranges with a vegetable peeler (avoiding the white pith) and cut into thin strips. Then squeeze the oranges, keeping aside the juice.
Put the strips of zest into a small pan of cold water, bring to the boil then drain and leave the zest to cool. Repeat this three times to remove any bitterness.
After the third boil, place the zest in a pan with the reserved orange juice and five tablespoons of sugar. Heat gently until caramelised, the sauce will thicken and become opaque and glossy.
Serve the cheesecake with the caramelised orange on top.