Wanted in Rome Junior: Art as a Voice for Women
Art as a Voice for Women by Natasha Hughes, senior IB art student, aged 18, at St Stephen's School, Rome.
"I believe in equality. And I believe there is no difference between a man and a woman. I even believe that a woman is more powerful than a man." Malala Yousafzai.
This quote and the book I am Malala, by Malala Yousafzai, a Pakistani activist for female education and the youngest Nobel Prize laureate, inspired my current work as an artist and gave me a better understanding about the suffering of girls in Pakistan. So moved was I by their circumstances, I felt I could use my art to provide a voice for girls and women throughout the world, a voice that many cannot have.
In the 21st century, it seems that neither the advances worldwide in so many disciplines, nor the continual struggle for equality, have been enough to quell the imbalance and inequity women in many cultures continue to experience. It is immoral that girls and women are compelled to live with men taking advantage of them, with men "mansplaining" them, with men dictating what they can and cannot do, be and achieve. Though we in the West may feel comfortable with saying these social constructs are limited to emerging nations, current events in the United States, Britain, Italy and elsewhere, reveal they are not.
Fragile was my first piece dedicated to exploring the perception of women in society and the topic of equality. In a short film I produced for International Women's Day, my hope was to draw attention to the need for ongoing awareness about some of the harsh realities women across the world face on a continual basis. Once a girl has been abused – and one in three girls will suffer abuse by the age of 18 – she experiences emotions such as isolation, shame, fear, sadness, guilt and confusion. She may even question herself and wonder if the abuse was her fault or why no one protected her. I feel it is crucial to shine a light on facts such as these and also underscore others, such as:
One in four women experience physical or sexual violence during pregnancy
Over 60 million girls worldwide are child brides
603 million women live in countries where domestic violence is not yet considered a crime
Through art, films, media and education, we can continue to keep a spotlight on global rights for girls and women. My film, which was featured prominently on the school's website, Facebook and other social media channels, successfully influenced the school-wide campaign about women's rights, of which I played an important part.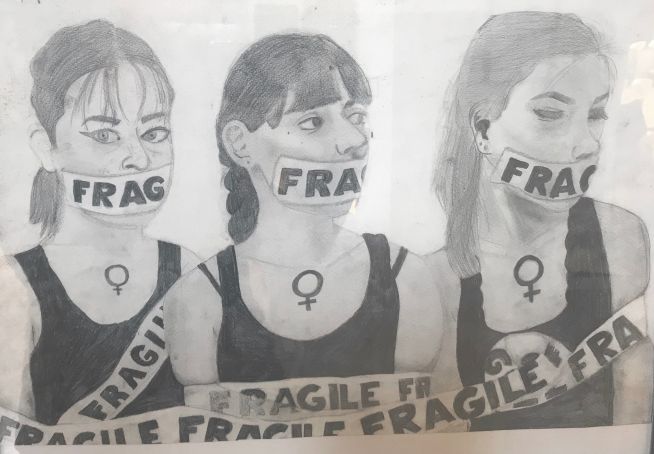 Remaining with this theme, I began to experiment with different media, which allowed me to move on to using digital photography. I began to capture the emotions and expressions of female students digitally, to create a comparison between the female stereotype and the reality most women across the globe face.
Then, using a still image from my short film, I decided to draw two pictures in pencil showing three different girls on each one. The girls were wrapped in tape marked 'FRAGILE' over their mouths and around their arms. I thought this portrayed the idea of young women who feel trapped and are prevented from speaking up for themselves and for their rights.
CURRENT EXPLORATION
In addition to digital photography, I am exploring black and white wet photography. Being intrigued by Jenny Holzer's powerful use of photography and text, I photographed portraits of female students from school and then developed them into prints.
I will add quotes on to the prints in different forms to show variety, mainly using quotes by Malala Yousafzai, as she is an inspiration for young girls around the world and her words are so powerful and relate to my chosen topic.
American artist Kara Walker has also inspired my art. She has both touched upon similar ideas of abuse, violence, shame, guilt, fear and isolation, and explored the topics of slavery, conflict and violence against women in-depth. Her motivation to portray such important topics is illuminating.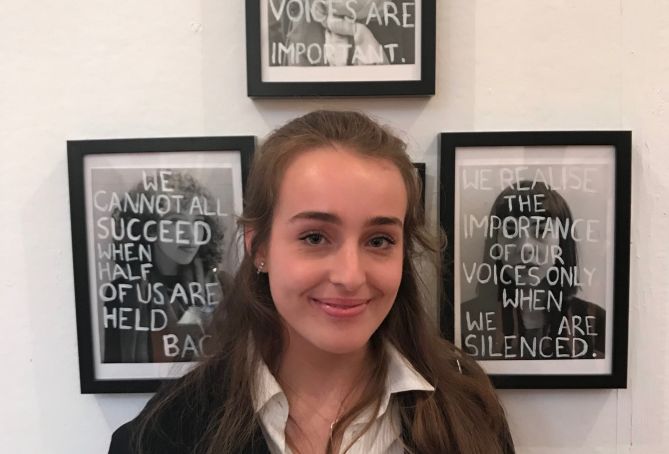 Along my artistic journey, I came across a work by Picasso called The Kiss, which gave me the idea of creating my own artwork inspired by Picasso's style. This specific painting, among others, evoked strong emotions and anger within me because his opinion and depiction of women was often vulgar and condescending.
I am currently painting three large works in acrylic paint on canvas. Each piece is based stylistically on a different painting by Picasso but stays with the idea of men using their power and taking advantage of women. The male figure in each of my paintings is a depiction of the producer Harvey Weinstein, and the collection of all three works will be called "#METOO", as they were inspired by the news of actresses finally having the strength and courage to speak out about being sexually assaulted by Weinstein. The question I raise in this collection of works is:
WHAT DOES THE FUTURE HOLD?
There is so much more I want and hope to portray through my artwork and so much I want to explore and let everyone know. I feel there is a clear path for women's rights in the future and I would hope that more pathways and media are created for observers to become participants. What matters most is an education for both men and women to make them more aware of current affairs, feel empowered to help those underrepresented, and find ways to be their own voice.
Natasha is a senior IB art student at St Stephen's and her IB teachers are Anita Guerra, Lucy Clink and Fiona Stewart. Natasha's images have also been used as posters for the women's movement in Rome.
WANTED IN ROME JUNIOR: For young writers and artists
Wanted in Rome is accepting creative contributions from students in all international schools in Rome. Articles on topics related to either the student's life in Rome or their school projects can be submitted by their class teachers. The work should be no more than 1,000 words and all contributions should contain the name, age and school of the student. We also accept illustrations. Any class teachers who would like to propose a project please contact editorial@wantedinrome.com.
General Info
Address
Via Aventina, 3, 00153 Roma RM, Italy
View on Map
Wanted in Rome Junior: Art as a Voice for Women
Via Aventina, 3, 00153 Roma RM, Italy