Rome police investigate critical posters of Pope Francis
Anti-Pope Francis posters coincide with Knights of Malta feud.
Rome police have launched an investigation into the appearance of dozens of illegal posters critical of Pope Francis posted around the capital during the early hours of 4 February.
City authorities wasted little time in covering up the images, which featured a stern-looking Pope Francis, and police have been studying street camera footage in an effort to identify the mystery activists behind the move.
The anonymous posters, which appeared in the historic centre, Trastevere and the Vatican district, accused Pope Francis of targeting conservative Catholics, listing several contentious polcies made by the pontiff.
Written in Romanesco dialect, the posters' text read: "Ah Francis, you've taken over congregations, removed priests, decapitated the Order of Malta and the Franciscans of the Immaculate, ignored Cardinals… but where's your mercy?", in a reference to the pope's special Jubilee Year of Mercy which ended in November.
Italian media pounced on the posters' reference to the "beheading" of the Knights of Malta, which referred to the resignation of the order's British Grand Master, Matthew Festing, on the request of Pope Francis.
Festing's removal as head of the order, a post usually held for life, followed a public spat between the Vatican and the 900-year-old lay religious order over Festing's dismissal of the order's Grand Chancellor, Albrecht von Boeselager, over his handling of health care facilities in Myanmar, which included the distribution of condoms at an anti-HIV and family planning centre.
Pope Francis has since reinstated von Boeselager, whose initial sacking was allegedly sought by the order's papal envoy, the conservative American cardinal and outspoken critic of Pope Francis, Raymond Burke, who is Cardinal Patron of the order.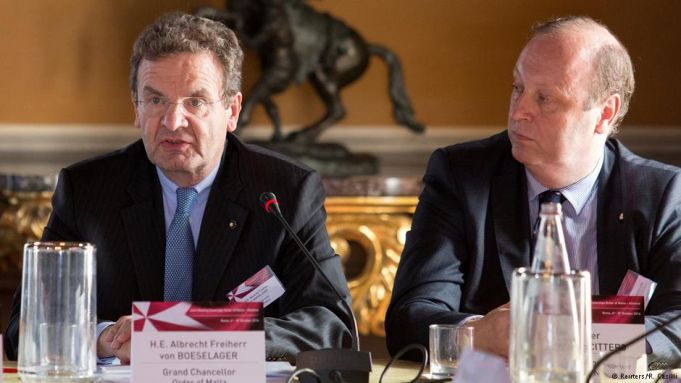 In addition to reinstalling von Boeselager, Pope Francis has appointed a personal delegate to the order, Archbishop Angelo Becciu, who will act as his "exclusive spokesman" until the election of a new Grand Master in several months' time, according to the Vatican.
The appointment was announced hours after the illegal posters appeared in Rome and is seen as further evidence of tension between conservative and liberal elements for control of the Vatican curia.
Photo La Repubblica