Holocaust victims remembered in Rome 73 years after liberation of Auschwitz.
International Holocaust Remembrance Day on 27 January is being marked in Rome with around 100 memorial events until 31 January.
In addition to being 73 years since the liberation of the Auschwitz concentration camp, 2018 also marks the 80th anniversary of Italy's racial laws, promulgated by the fascist regime to enforce racial discrimination, mainly against Italy's Jews.
In recent days the city began the process of renaming Rome streets called after the signatories of the racial laws, which were endorsed by ten scientists and contributed ultimately to the deportation of Italian Jews. Rome mayor Virginia Raggi says she hopes the streets will be renamed by the end of this year, stating: "Rome condemns the racial laws, and our city is proudly anti-fascist."
The Settimana della Memoria events are based mainly at the Casa della Memoria e della Storia, in Trastevere, which presents a free programme of films, documentaries, exhibitions, interviews, lectures, readings and book presentations.
Established in 2005 by the United Nations to commemorate the day in 1945 that the survivors of Auschwitz were liberated by the Russian army, the initiative honours the memory of the millions of Jews – but also homosexuals, Romany people and others – who suffered persecution, deportation, imprisonment and genocide.
Each January since 2010 Rome has installed a number of brass cobblestone-sized memorials commemorating victims of the Holocaust. Known as stolpersteine in German, or literally translated "stumbling stones", the memorials are the work of Berlin artist Gunter Demnig.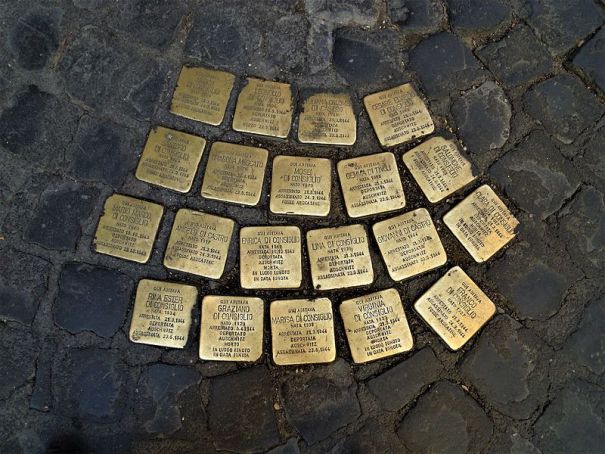 The plaques are installed outside the last chosen place of residence of victims of the Holocaust, detailing their first and last names, date of birth, date and place of deportation, and date of death in a Nazi extermination camp.
On 9 January this year Demnig installed 11 new memorial stones: eight in the suburbs and three in the centre. Two were placed on Via della Reginella 27, in memory of Virginia Piazza and Pacifico Di Consiglio, and the third on Via dei Delfini 14, in memory of Ester Mieli.
There are now 276 such memorials around Rome. See related article.
General Info
Address
Via della Cava Aurelia 183
View on Map
Rome marks Holocaust Remembrance Day
Via della Cava Aurelia 183