Rome struggles to prepare for Pope Francis' pilgrims.
No-one in Rome is pretending that the Holy Year of Mercy that Pope Francis will open on 8 December will be smooth sailing. The announcement of a special Jubilee (ordinary Jubilees usually happen every 25 years) has caught the Eternal City on the hop. It is still struggling with the aftermath of one of the worst financial crises in modern history. Its elected mayor, Ignazio Marino, was forced to resign at the end of October after he had committed what his party, the Partito Democratico, said were too many mistakes and a commissioner Francesco Paolo Tronca has only just been appointed to organise what are now very last minute preparations.
The city is also still struggling with a clean up of a vast organised crime network, Mafia Capitale, that has had its hands on almost every aspect of the city administration for years. Housing, the environment and services for migrants, refugees and ethnic Roma have been particularly badly affected. The trial of the 46 defendants involved in the case has only just started in Rome and is likely to go ahead until summer 2016.
Budgeting for Holy Year pilgrims
Money for the Jubilee is also an unknown quantity. So far only €50 million has been budgeted to get the city ready to receive the Holy Year pilgrims, although the prime minister, Matteo Renzi, is promising more money to come now that Marino is out of the way. However the security forces have already been reinforced to make sure that there are no upsets.
Numbers for the Jubilee
No one is even sure how many pilgrims will come. Guestimates put the number at 20 million, but this is probably wide of the mark given that Pope Francis has also instructed each of the 3,000 Roman Catholic dioceses worldwide to play their part locally rather than leave everything to Rome. He is still hoping that he may be able to open the holy door of the cathedral of Bangui in the Central African Republic during his first visit to Africa which starts on 25 November.
Priorities for pilgrims
So what are the priorities for the year ahead? A clean, viable, welcoming and secure city, with emergency health services ready to cope. This means that two of the capital's shaky public utilities, AMA (rubbish disposal, hygiene, parks and cemeteries) and ATAC (public transport) will have a major part to play. Rome's Agenzia per la Mobilità will manage traffic flows, which includes coaches. The 12 hospitals that will be readied to look after pilgrims do not come under city management.
The metro lines have difficulty managing with normal commuter flows. The buses are full to overflowing and strikes for pay and better conditions are constant. Combine this with flooding in bad weather, potholes in the roads and endless traffic jams and the whole system frequently comes to a halt.
The city's roads are already beyond saturation point and no one is sure how many more permits for pilgrim coaches will be needed. Parking is already a headache and no new schemes have yet been approved. At present coaches drop their passengers wherever they can along the Lungotevere embankments and then move off to reserved parking spaces.
The closest is the so-called Vatican car park on the Janiculum, specially built for the last Holy Year in 2000. There is also the newly opened car park in nearby Piazza Cavour. There are spaces along Via Gregorio VII and others further away, along Lungotevere Flaminio, close to Viale delle Belle Arti. If the number of coach permits is increased in 2016 existing parking will not be enough.
One of the city's hopes is that many of the pilgrims will come by air or train, hence the plan to make Termini station the main hub for arrivals and departures.
Trastevere and Ostiense stations, both of which are linked to Fiumicino international airport, are also key locations and already have good connections to the historic centre by tram and express bus. S. Pietro station is linked to the Trastevere-Ostiense network and from there it is only about a 15-minute walk to St Peter's.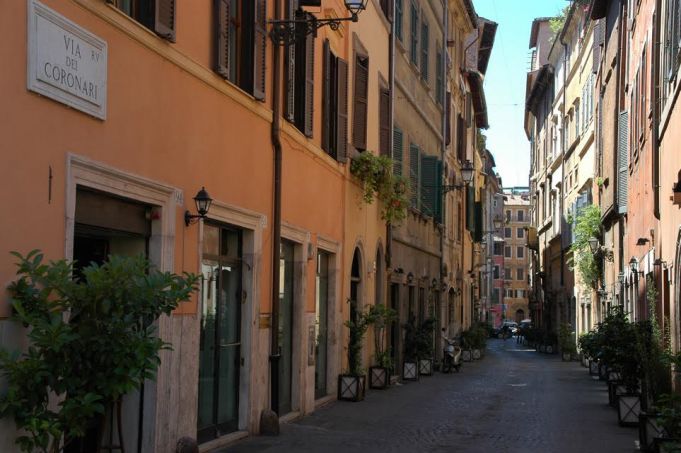 Special pilgrim routes
Walking is one of the keywords for this Jubilee year. Old pilgrim routes are to play a key part: Via Giulia, Via del Governo Vecchio, Via del Banco di S. Spirito, Via dei Pellegrini, Via dei Coronari. These picturesque little streets cross the historic centre, are easily accessible from all over the city and all have inviting shops and restaurants. All join up at Castel S. Angelo, which will function as the welcome and information centre to cope with the crowds making for St Peter's.
The key parish churches in this scheme are S. Giovanni dei Fiorentini (Via Giulia), S. Stefano in Lauro (Via dei Coronari) and the Chiesa Nuova (Corso Vittorio Emanuele II).
So probably Pope Francis, who is keen on sustainability, is right: the best bet is to persuade pilgrims to do what pilgrims have always done – walk.
The Via Francigena was Europe's old pilgrim way to Rome
One of the traditional pilgrim ways into Rome is along the Via Francigena from La Giustiniana on Via Cassia, down Via Trionfale, across Monte Mario, into Prati and finally to St Peter's. At present it is not recommended because the traffic, unfriendly modern roundabouts and lack of pavements and signposts make it almost impossible for all but the most determined. However the Lazio regional authorities have said that they intend to upgrade this last section of the old pilgrim route to make it viable for all.
Vie Francigene, the umbrella body which is officially recognised by the Council of Europe, hopes to make the millennia-old pilgrim route as popular as the Via Compostela in Spain. It is still a long way behind, with only about 25,000 users compared to the 230,000 who walk the Camino de Santiago each year. But walking sections of the VF, as its friends and supporters now call it, is catching on as more and more people – both the young and the old – are taking to slow travel as the way to savour Italy's history and cultural heritage. If you want to walk a section of the Via Francigena then you should start with the VF website.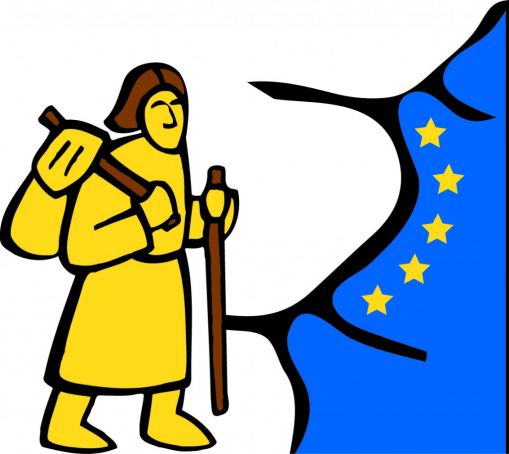 Cammini di S. Francesco and S. Benedetto
There are two other Cammini. The Cammino di S. Francesco starts at Assisi, winds through Umbria to Rieti in northeast Lazio, then on to St Peter's via the small town of Monterotondo and the Rome suburb of Montesacro. The Cammino S. Benedetto starts in Norcia, the saint's birth place, and ends at his famous monastery and abbey of Montecassino in southeast Lazio. It links with the Cammino di S. Francesco at Rieti, and so to Rome.
If you are serious about walking tours, then two slow travel organisations, Movimento Lento and SloWays, are adviseable stops along the way.
Mary Wilsey
A version of this article appeared in the October 2015 edition of Wanted in Rome magazine.