Mediaeval fresco found in Rome church following discovery of obscure archive document.
A large fresco dating from the Middle Ages has been discovered in a church on Rome's Aventine Hill, after being hidden behind an exterior wall for 900 years, reports Italian news agency ANSA.
Dating to the mid-12th century, the intact fresco was found on the counter-façade of the Church of S. Alessio and is described as being in extraordinarily good condition.
The fresco is believed to depict "St Alessio and the Pilgrim Christ", according to Claudia Viggiani, the art historian behind the sensational find.
The section of fresco currently visible measures 90 cm wide and more than four metres high. Another portion, at least as large, is still hidden by the wall. Viggiani told ANSA that she is determined to bring it to light: "We owe it to the Romans" - she says - "and we expect more surprises."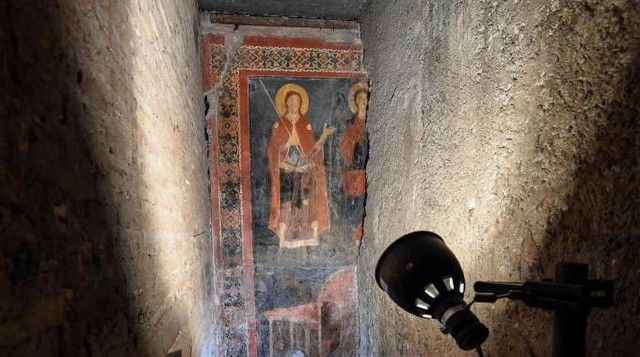 The fresco's discovery came about following a lengthy search after Viggiani came across a curious archival document, sent in 1965 from Rome's office of civil engineers for building works to the superintendency for monuments of Lazio.
The letter made reference to "a fresco in excellent condition", stumbled upon during works to strengthen a bell tower in Rome. The only problem was that the address of the bell tower was not mentioned.
"It took a while, but in the end I found it", Viggiani told ANSA.
The discovery was announced on 29 June, the feast of Rome's patron saints Peter and Paul.
Cover image Corriere della Sera
General Info
Address
Piazza di Sant'Alessio, 23, 00153 Roma RM, Italy
View on Map
Rome discovers Mediaeval fresco hidden for 900 years
Piazza di Sant'Alessio, 23, 00153 Roma RM, Italy