Archbishop of Canterbury installs Archbishop Bernard Ntahoturi in Rome ceremony.
Archbishop Bernard Ntahoturi was installed as the new director of Rome's Anglican Centre by the Archbishop of Canterbury, Justin Welby, during a ceremony at the Oratory of S. Francesco del Caravita on 26 October.
Archbishop Ntahoturi becomes the Archbishop of Canterbury's personal representative to the Holy See, in addition to being the first African director of the Anglican Centre in Rome.
The Vatican's foreign secretary, Archbishop Paul Gallagher, preached at the ceremony while the Evensong celebration saw the church choirs of All Saints' and St Paul's Within-the-Walls sing together.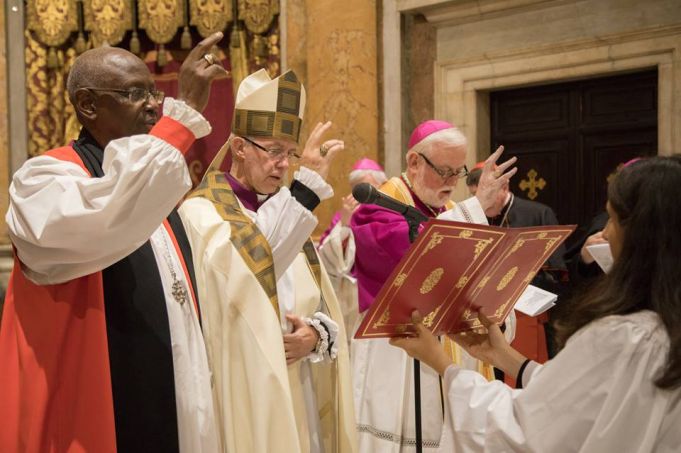 Born in Burundi in 1948 Ntahoturi studied theology in Uganda, and following his ordination in 1973 he continued his clerical studies at Cambridge and Oxford universities. On his return to his home country, he entered the civil service, rising through the ranks to serve as chief of staff to President Jean-Baptiste Bagaza from 1979 to 1986. When Bagaza was overthrown in a military coup in 1987, Ntahoturi was imprisoned for almost four years, an experience he says taught him humility and other valuable lessons about the responsibility of religious leaders.
He served as provincial secretary of the Anglican Church of Burundi from 1992 until 1997 when he was consecrated bishop of Matana Diocese. In 2005 he became archbishop primate of the Province of the Anglican Church of Burundi.
Ntahoturi's ecclesiastical duties in Burundi took place against the backdrop of a bloody civil war which raged from 1993-2006. The conflict was the result of long-standing ethnic divisions between the majority Hutu and minority Tutsi ethnic groups, and the estimated death toll stands at 300,000. One of the most high-profile casualties was the papal envoy, Archbishop Michael Courtney, who was ambushed and killed in late 2003, after attempting to bring about peace between the two factions.
Ntahoturi has served as vice-chairman of Burundi's truth and reconciliation commission since it was established formally in 2014. The 11-member commision, which has its origins in the Arusha Agreement, a peace deal signed in Burundi on 28 August 2000, comprises six Hutus, including its president the Catholic Monsignor Jean-Louis Nahimana; four Tutsis including Ntahoturi; and one member from the Twa ethnic minority.
Ntahoturi has also served as chair of the Council of Anglican provinces in Africa from 2011-2016.
He takes over at the Anglican Centre in Rome from Archbishop David Moxon, who has returned to retire in his native New Zealand after serving four years in the post.
The Anglican Centre in Rome celebrated its 50th anniversary in October 2016, see Wanted in Rome feature article by the Revd Marcus Walker.