Architect Paolo Arsena, the driving force behind the Metrovia project, explains how it could change Rome's public transport network.
What is Metrovia?
It's a solution to provide Rome with an integrated rail system of nine metro lines and one urban railway, making use of the existing infrastructure and absorbing single operations that have already been planned. The three existing metro lines would be joined by six more overground lines, plus a circular railway line using the urban stretches of the existing regional rail network. This will multiply the lines, the intersections and the stations. This would be an advantage for both Romans and for commuters, because Metrovia has been planned to integrate with the existing regional rail services.
How and when did the idea start?
I've never been able to stand not being able to move freely around my home town, and I started looking for a solution. I'd had the idea of using stretches of railway for a metro service for some time, but my last visit to Berlin four years ago was inspiring: a metropolis where the underground U-Bahn lines are perfectly integrated with the S-Bahn which, although technically trains, are still efficient overground metros. Rome is full of unused railway lines, missing connection nodes, stations that were never built. I became convinced that we could do better.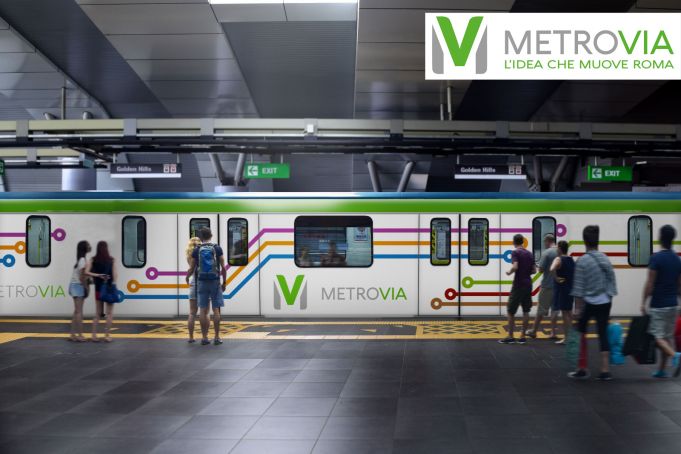 How is your team made up?
We are a group of five, very tight knit and complementing one another. Being an architect, I have a more visionary approach, but also tied to practical demands and urban transformation. But I needed the abilities of Corrado Cotignano, a transportation designer with a real passion for mobility in Rome, a city of which he knows every technical and evolutional aspect. It was together with him that the original idea grew, comprehensive but still not perfect, resolving one problem after another until it became the current project. Then we have the communication sector: Florestano Pastore manages our website, while Marina Stoppelli creates, writes and oversees the texts. If Metrovia has had good public visibility, it's thanks to the ideas and communication strategies of this extraordinary pair. And then there's Piero Borgia, the creative expert who designed our logo and manages our graphic presence.
What is the innovative part of your project?
Thinking up the system. Metrovia has invented very little, it's based on what was already planned and what was already there. This is the secret of its concrete feasibility. But it's had the strength to conceive a single connected transport system. It's precisely this overall vision which is missing in Rome. If you don't have an overall plan, with plans to include interchanges and possible new services then the development is improvised, with a bit here and a bit there. The city looks after one aspect, the railway company another in their own style and then you find that there are two stations 300 metres apart which are not connected. They can't even manage to create a minimally effective graphical communication.
What are the costs and times for the work?
We've estimated the total cost at around €5 billion. But that covers everything, including jobs already financed and those already planned; the additional cost of implementing the Metrovia plan without these elements is about half of that. You need to bear in mind that the metro C line alone has cost almost €3 billion so far. As for the timing, we estimate that in a normal city – which Rome ought to become – ten years should be enough to complete it all, with the advantage of working in phases.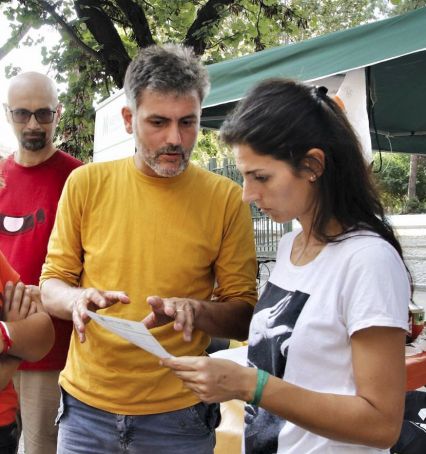 Who do you think ought to finance the work, and who is to be the owner once it's finished?
The state could find the funding for a project that affects the daily life, the image and the economy of its capital city. It could be mixed funds: state, region, private. It also all depends on the management of the service, which might or might not be separate from the ownership of the tracks. The important thing is to get all the stakeholders around a table to define strategies and opportunities, roles and competencies. It won't be easy, but if there's a strong and determined lead anything is possible.

What has been the reaction of institutions and of the public?
I'm afraid you've touched a raw nerve there. The huge enthusiasm of the public wasn't mirrored in the institutions, particularly by the mayor Virginia Raggi and her city council. That's a pity, because, as we see it, it's precisely Rome's city council that needs to take the lead, because Rome would be the prime beneficiary of Metrovia.
This means the mayor needs to become the driving force behind the whole initiative, aside from any decision-making needed from other interested organisations. And yet we've felt a certain inexplicable coolness towards us. Let's take things in order. We inserted Metrovia into the sustainable mobility plan (PUMS), along with hundreds of other suggestions from the public, and it was voted the best by a long stretch. This result in particular should have caught the attention of city administration, which claims to be in tune with the views of its residents. But that didn't happen.
First they announced results in a press conference which didn't correspond to the results published on the PUMS website, without ever mentioning Metrovia. Then they had to issue a correction. But unlike the committees promoting the other proposals, we were never invited to meet either the municipal mobility committee or the mobility councillor Linda Meleo. And then in early November, when we officially presented our MacroAsilo project not one member of the city council we had invited felt the need to turn up. Our only contact with Roma Mobilità [the official urban transport company] came much later, at our insistence and after two or three postponements.
What have you done up to now to make your project known, and with what results?
To start with, we circulated an explanatory video, which had a reasonable success. Then, once our team settled in, we put a strong effort into our Facebook page, which now has almost 10,000 supporters. Then we created a specific website which crashed a few hours after the launch because of the exceptional level of visits. Over the past two years we've continued to work in parallel. On the communications front, with the Facebook page and the blog: in our daily contact with citizens, districts and territories we've received motions and suggestions which have often been integrated into the project. This has certainly helped widen the catchment area of interest in Metrovia. On the other hand, we've continued to work on technical solutions, always announcing them and never acting in such a way as to protect our plans. I think this approach has paid off. The first live public meeting last November at MacroAsilo helped create even closer ties with Romans.
What's the main problem with Rome urban transport, in your view?
Rome's a city designed for road traffic. The GRA ring-road, the Olympic bypass, the Muro Torto, the Cristoforo Colombo are wide connecting roads for cars, which attract even more cars. Then there are buses providing a very poor service, partly because they have a lower passenger capacity than the most common public transport systems, partly because they are swamped by other traffic. So you have chaos, pollution, poor service. All the major European (and other) capitals have solved things with metros and overground rail services. In Rome, on the other hand they were taboo for too long because of the underlying archaeology. Today we have less invasive techniques and methods, but creating an underground metro still has very high costs and times. That said, we shouldn't give up, but we need to work on many fronts.
So what's the solution?
We need a coherent 15-year plan with a railway-based system in three sections. On one hand, creating the Metrovia as the principal structure. Then we need to continue work on the underground lines, extending lines A and B and completing line C as far as Piazzale Clodio. And thirdly we need to think of a secondary network of high-speed trams in their own protected tracks: 12 lines of Metrotram (partly using existing lines, partly new) will be enough to create an efficient and widespread network capable of freeing the city centre from cars and providing an alternative to private transport just about everywhere. As long as we carry on with extemporary patches cut off from a master plan, Rome won't make any progress.
For full details see Metrovia website.
By Marco Venturini
This interview was published in the April 2019 edition of Wanted in Rome magazine.