Rome's horse-drawn carriages still on city streets despite mayor's promises.
One of Rome's 'botticelle' horses collapsed on Via dei Condotti, the exclusive shopping street near the Spanish Steps, on the morning of 17 October, reigniting the debate about why the animals are still in operation around the city.
The horse remained on the ground for several minutes, with the driver of the 'botticella' telling traffic police that the animal slipped on a "particularly slippery drain cover".
The driver reportedly ignored appeals to have the animal seen by a veterinarian and, once back on its feet, the horse was directed to the Spanish Steps, whose ready supply of tourists provide a lucrative income for the drivers of the horse-drawn carriages.
The incident was condemned by Italy's national agency for animal protection ENPA which called for "national politicians" to protect the horses in the "face of the full-blown incapacity of the capital's administration" led by mayor Virginia Raggi who promised in her election campaign three years ago to ban the outdated practice entirely.
In July the mayor trumpeted the news that the horses would be moved off the streets and would circulate in the city's parks and villas instead. However since then it has been business as usual for the horses, who live in stables in the Testaccio district of Rome.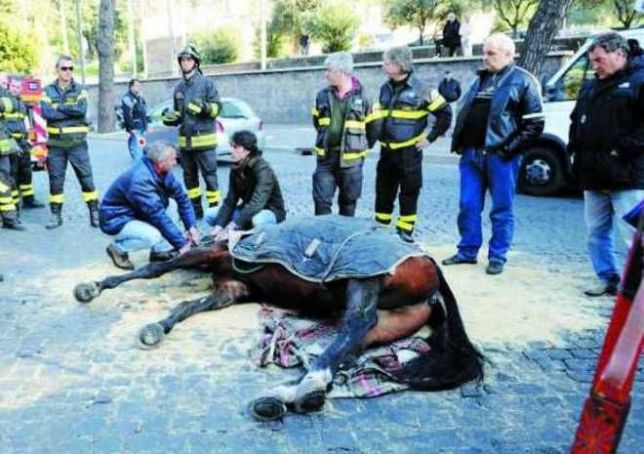 At the time of the news, which made headlines around the world, Raggi posted on her Facebook page: "No more exhausted horses on the streets! Rome leader in safeguarding and protecting animals."
The mayor was more triumphant on Twitter: "Another result achieved: we eliminate the botticelle from the streets of Rome...Our commitment is a serious matter. With us, Rome is changing for real."
Over the years there have been numerous clashes between carriage drivers and animal rights' activists who describe the city's streets as a "cruel" working environment for the horses, several of whom have collapsed and died under the strain of the summer heat.
In 2008 an 18-year-old horse died while at work near the Colosseum. In 2012 an exhausted horse collapsed in Piazza di Spagna, under the strain of carrying six tourists in 40 degree heat. The driver attempted to beat the animal back to work and only ceased following the intervention of police. In 2014 a horse collapsed on Via del Corso, near Italy's parliament, after the driver claimed it slipped in oil.
Under former mayor Ignazio Marino stricter controls were enforced, prohibiting the animals from working during the hottest times of the day in the summer. However, despite numerous promises and announcements from the current mayor, the horses remain on the streets of Rome.
General Info
Address
Via dei Condotti, 00187 Roma RM, Italy
View on Map
Horse collapses near Rome's Spanish Steps
Via dei Condotti, 00187 Roma RM, Italy