Independent celebrants provide Rome residents with non-religious rites of passage.
A few years ago, Giorgio's wife died unexpectedly. Neither member of the couple was religious, and Giorgio didn't want a church funeral. Nothing else was offered or suggested, and he was too beset with grief to try and organise an alternative ceremony himself. Giorgio, with some family and friends, followed the hearse to the crematorium in Rome's Prima Porta cemetery on Via Flaminia. They stood in the hot summer sun in the car park while waiting for the attendant to take the coffin. The family was told to leave their flowers at the gate. Not only did the occasion lack any hint of ritual but they were forced to endure the ugly brutality of the scene. There are no niceties at Rome's crematorium. Bodies are left unceremoniously outside and you are told to return to pick up the ashes about three weeks later.
Rachel and her Roman husband wanted to have a civil wedding as they weren't religious, so they arranged to get married at the city council venue near the Baths of Caracalla. Rachel, who is Australian, didn't realise that the ceremony in Italy would be so dry, and was shocked to discover that it consisted of a mere reading of the law. The couple and their friends were not given any welcome and no effort was made by the officiant to make any sort of personal references. They both felt the ceremony was disappointing.
Passaggi
Experiences such as these are why the cultural association Passaggi was founded in 2014. Passaggi provides celebrants to create and officiate personalised non-religious ceremonies in English, Italian, or both, for baby namings, vow renewals, weddings and funerals in Rome, Lazio, Umbria and Campania.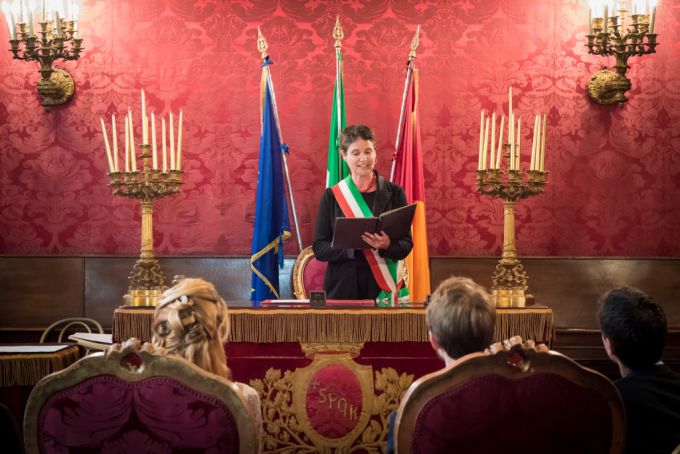 However, people wanting a wedding or a funeral will always have to follow the strict legal procedures. Weddings are only formally legalised when they are signed by a state registrar. The couple can perform the legal marriage at the local registry office before or after the symbolic celebrant wedding. Some couples can arrange for a registrar to come to the location they have chosen (if it is a venue approved the city) and perform the legalities before or after the ceremony by Passaggi.
Rites of Passage: a historical and anthropological view
As western society has become more variegated and individualistic, and as religion has begun to lose its centuries-old hold on society, there has been an increasing demand for personalised celebrations for births, marriages and deaths. A one-size-fits-all ceremony is no longer considered suited to modern life, and yet a personalised ceremony needs to contain some form of ritual.
Rites of passage – from baptisms and weddings to funerals – have traditionally been the exclusive domain of either the church or the state in order to better establish and maintain social order.
The idea that alternative figures could undergo training in order to celebrate these rites of passage in a secular context did not come into the picture until the 1970s. By 2016, as many as 75 per cent of marrying couples in Australia chose a civil celebrant to officiate at their wedding. In the US, Canada, New Zealand and the UK numbers are similarly on the rise. The figures for non-religious funerals are slightly lower, but in the UK they have reached almost 60 per cent of families who prefer a personalised funeral for their loved one to a church event.
Choosing a celebrant for a wedding in Italy
Marriage registrars performing civil weddings in Italy (ufficale di stato civile) at the comune of residence are bound by legal restrictions and time restraints. The articles of the law must be read in Italian without any interruption. There is little time or opportunity to personalise the ceremony (the registrar will not necessarily have met with the couple before hand), or address the emotions inherent in making such an important step. LGBTQ couples signing the new Italian civil union (unione civile), moreover, want to do so in the same spot where civil marriages for heterosexual couples are sealed, but are often frustrated by the bureaucratic nature of the procedure.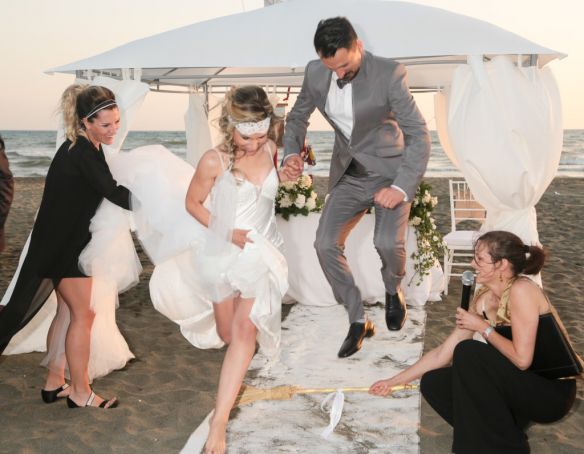 A couple can opt for signing the legal papers "in jeans and T-shirt" and then go on to hold a wedding celebration that is completely of their choosing. A celebrant ceremony is free of any constraints – religious, cultural or legal – because it is 'symbolic', written together with the couple to reflect their wishes, desires and dreams. This new-found freedom allows two people of whatever combination of genders to celebrate their union in whatever way they want and wherever they want – in spectacular venues, gardens, beaches, boats, woodlands, private homes, or historical buildings. Celebrants are able to borrow and adapt elements from various cultures and traditions, and even from traditional or spiritual weddings (Celtic hand-fasting ceremonies, Sand Ceremonies, Unity Candles, Jumping the Broom, Tying the Knot, "Druid" Ceremonies, etc) and thus create a unique ceremony that reflects the couple's personalities, family backgrounds and shared history.
Celebrating a non-religious funeral in Italy
Celebrants play a vital role in making non-religious funerals truly special. Many will have experienced first-hand how a church funeral can be "just right" if the deceased was effectively part of the church community, and, vice versa, how it can be disappointingly impersonal when the priest is simply "going through the motions". Passaggi was founded in order to provide a dignified alternative for those who no longer attend church, have never believed in God, or have stipulated that they do not want a religious funeral.
During the family visit, celebrants have a long, often intimate, conversation with all the members of the family and friends present, gently enquire about their beliefs and values, ask what their preferred readings and musical selections are, and, most importantly, mediate between varying points of view. They then go home and craft a unique ceremony script, including a tribute (or eulogy) that captures the essence of the person who has died, and reflects the words and sentiments of the family.
In Italy, the family will always have had to go to the undertaker first to take care of the legalities, but after that Passaggi can step in. The quick turn-around in Italy between the actual death and the funeral – often no more than 48 hours – makes the task of organising the celebration even more daunting. Celebrants lift this burden off the shoulders of those most intimately involved in the death. Moreover, the fact that they are "external" makes them more suited to mediating between different points of view, and more appropriate as performers of a funeral ceremony where the loved one's life is at the centre of the celebration.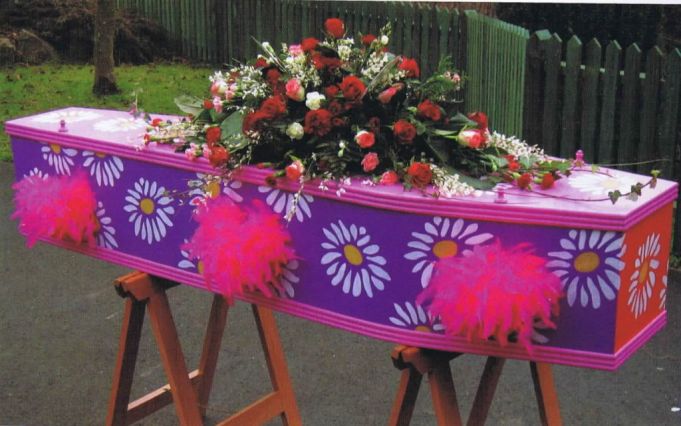 Celebrant-led funerals give more choice to families, and are fitting for cremations, interments, burials, or commemorations. City councils are required to provide a suitable space for celebrating non-religious funerals (funerale laico). In Rome the Tempietto Egizio at the Monumental Cemetery of Verano is free to city residents. There is also a new venue at Verano called the Mater Admirabilis, with facilities for projecting images and an excellent sound system. The Chapel at the Non-Catholic Cemetery and the Valdese churches allow mourners to hold a ceremony without pastors or priests present.
An excellent guide to the issues surrounding non-religious funerals in Italy is the book Funerals Without God by Richard Brown, who is a member of the British Humanist Association and works with Unione degli Atei a degli Agnostici Razionalisti (UAAR) here in Italy to train celebrants for non-religious funerals. Passaggi has worked closely with Zega Funeral Directors who are sympathetic to celebrant-led funerals and work closely with many of the foreign consulates.
Clarissa Botsford
SIDE NOTES
Passaggi was formed in Rome in 2014 and there are two celebrants trained at the Fellowship of Independent Celebrants.
They perform funeral ceremonies in Lazio, Campania and Umbria and they have recently organised a commemoration in Milan. For weddings they are happy to travel throughout Italy as there is plenty of time to plan the event. The ceremonies are mainly for families with ex-pat connections but interest among Italians is growing.
They perform funeral ceremonies in Lazio, Campania and Umbria and they have recently organised a commemoration in Milan. They are prepared to travel thoughout Italy if they have enough time to plan a wedding. The ceremonies are mainly for families with ex-pat connections but interest among Italians is growing.
Clarissa Botsford graduated from King's College, Cambridge, in Modern and Mediaeval Literature and later completed an MA at London University in Comparative Education. She has taught English Language and Translation at Roma Tre University since 1980, and translates Italian literature into English. Botsford is an accomplished musician and sings and plays violin, viola and mandolin in two small ensembles in Rome. She founded Passaggi in 2014 with her Australian friend, Sarah Morgan, after witnessing far too many silent non-religious funerals where no celebrant was present to guide the proceedings. She and Sarah attended a residential training course in the UK and gained their certification in early 2015. For more information on Passaggi see website.
This article was published in the April 2017 edition of Wanted in Rome magazine.