Carracci Gallery restored at Palazzo Farnese in Rome
Restoration at French embassy reveals hidden drawings, dates and signatures.
The Carracci Gallery at Rome's Palazzo Farnese, home of the French embassy to Italy, reopens its doors to visitors from 21 September following a €1 million restoration that began in March last year.
The restored gallery, a 17th-century Baroque masterpiece, was inaugurated on 16 September by the French ambassador Catherine Colonna and the Italian culture minister Dario Franceschini.
The 18-month restoration project was a joint Italian-French venture and was funded with a grant of €800,000 from the World Monuments Fund, while the Italian culture ministry provided €200,000 for preliminary restoration studies.
The process involved the restoration of the frescoes and stucco of mythological scenes which were completed primarily by the Bolognese maestro Annibale Carracci between 1597 and 1607. Carracci was assisted in this task by his brother Agostino and several of their up-and-coming protégés such as Domenichino and Giovanni Lanfranco.
In addition to returning the stucco and fresco colours to their original splendour, the cleaning revealed design modifications as well as important clues as to which artists were responsible for various sections. Restorers also uncovered drawings, graffiti, signatures and dates from the 18th century, including work by the celebrated Rococo painter and caricature artist Pier Leone Ghezzi.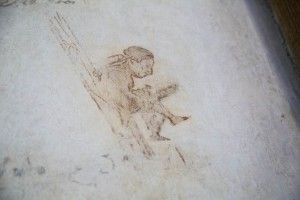 Palazzo Farnese has played an important role in Rome's history, politics and art, and over the centuries it has hosted countless diplomats, kings, artists, popes and cardinals. Construction of the palace began in 1517 after a design by architect Antonio da Sangallo the younger.
On the death of Sangallo in 1546, Michelangelo took over the project, modifying Sangallo's designs. When Michelangelo died in 1564 Giacomo della Porta oversaw work on the building until its completion in 1589.
To visit Palazzo Farnese it is necessary to book in advance – see website – although visitors can get a sneak preview of the restored Carracci Gallery, before it opens officially on 21 September, during the European Heritage Days from 19-20 September.