American artist C. Finley is based between the US and Rome, and a detail of her work Fingaz 4 Daze featured on the cover of the August edition of Wanted in Rome magazine.
Your work has been described as "stylistically promiscuous" and ranges from fine art to installation to environmental activism. How do these different elements engage with each other and do you favour one over the others?
"Painting is my fulcrum, I love the solitude of the studio but I also need to engage with people in collaborative projects which are fun to create and are social. They have an impact in the world in a different way. One such project was last year's Whitney Houston Biennial, in New York, an initiative to highlight women artists. I curated 85 female artists from a varied range of geographic and cultural backgrounds, disciplines, methodologies and generations."
You are known internationally for your vivid, geometric paintings and intuitive understanding of colour – what inspires these works and can you describe the painting/design process?
"My current practice is first to find an image that speaks to me. Then I find a geometric compliment, such as a mandala or sacred geometry. I then recreate the image on the canvas and draw the geometry on top of it. Finally I either choose at random or intuit the colours I then paint with."
Your Wallpapered Dumpsters have made news in Los Angeles and Rome, in particular your collaboration with the Retake Roma movement. Can you tell us what prompted this unique project?
"I worked in the film industry in Los Angeles as a set decorator and scenic painter. I collected wallpaper from various shoots. I was trying to figure out how to use this material when I was asked to participate in an installation at the port of Los Angeles. I worked in a 12-m container for an entire week. The containers were all earth-toned so I wanted to disrupt this monotonality by wallpapering one with a baroque pattern. Then a few weeks later a friend let me wallpaper his studio dumpster. That's how it began. I believe the project receives press because if a viewer sees a dumpster as a work of art, it raises consciousness. Everybody likes a good story."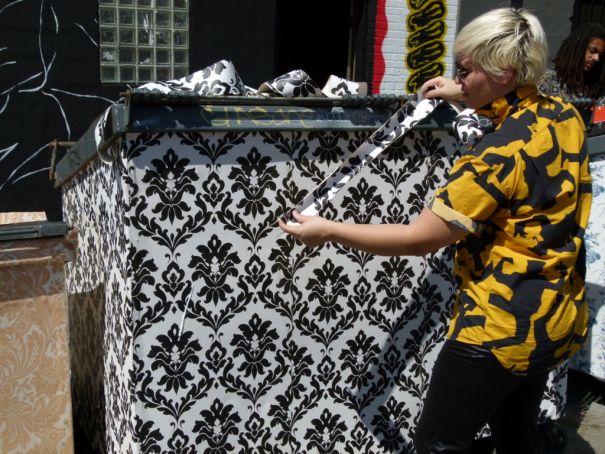 You live half the year in Rome. How does the city influence your work?
"I am in Rome to be away from the international art scene, for me Rome is a beautiful place where I can go into my studio without distractions. Rome inspires me, by being neighbours with Bernini, Michelangelo, Caravaggio, among others, so I feel challenged to create meaningful, great work."
What has been a recent highlight of your career?
The Divine Distractions, a solo exhibition at the Superchief Gallery in L.A., was such an incredible experience. The show featured vibrant, large-scale paintings of my signature elements: wild colours, sensuality and geometry that emanate positive energy and celebrate divine interventions.
What projects are you working on now and will you be exhibiting in Rome in the near future?
I would love to find a giant space in Rome and create a version of The Divine Distractions exhibition. I plan on painting my heart out in Rome all summer.
Andy Devane
Published in the August edition of Wanted in Rome magazine. For more information on C. Finley and her work, see website.