Rome's Chiostro del Bramante presents Bacon, Freud and the School of London: Works from the Tate.
The term "School of London" was coined by the painter R.B. Kitaj for the catalogue text of the exhibition The Human Clay, which he organised at London's Hayward Gallery in 1976, consisting exclusively of figurative paintings. Kitaj used the term to describe the artists he had assembled, among whom were five of the six painters included in the current exhibition at the Chiostro del Bramante: Francis Bacon (1909-92), Lucian Freud (1922-2011), Leon Kossoff (1926-2019), Michael Andrews (1928-95), Frank Auerbach (b. 1931).

In 2016, Bacon, Freud, Kossoff, Andrews, Auerbach and Kitaj were the subject of the exhibition London Calling at the Getty Museum in Los Angeles, curated by Elena Crippa, curator of Modern and Contemporary British Art at the Tate. For the Rome exhibition, Crippa has replaced Kitaj's work with that of Paula Rego (b. 1935).

For the Italian public, Bacon is by far the most familiar name among the six painters. Since the 1950s, his work was received with interest and exhibited often in Rome and elsewhere, and had an influence on artists and filmmakers such as Pistoletto and Antonioni. The exhibition includes major paintings (and some works on paper and drawings) by Bacon, among which are Figure in a Landscape (1945), Study for a Portrait (1952), Dog (1952), Study for Portrait II (after the Life Mask of William Blake) (1955), Seated Figure (1961), Study for Portrait on Folding Bed (1963), and Portrait of Isabel Rawsthorne (1966).
Disturbing
They explore in different, surprising, disturbing ways the human figure, twisted and smeared, most times encased and isolated in a transparent glass box. As Bacon stated in 1966: "What I want to do is to distort the thing far beyond the appearance but in the distortion to bring it back to a recording of the appearance".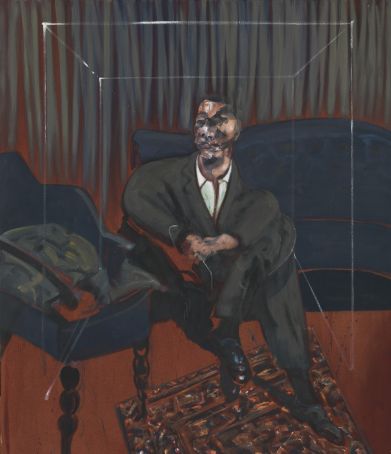 The Chiostro del Bramante exhibition introduces a wider public to the works of Andrews, Auerbach, Kossoff, and Rego, all of whom are well known in Britain – where they have been and continue to be relevant to younger generations of painters – but not often seen in Italy.

While it may be incorrect to define School of London painters as "existentialists", their approach certainly revolved around the psychological aspects of the life of individuals in a specific place and time. They had in common an unshakable faith in what they saw as the cognitive and ethical value of figurative painting compared to abstraction. As Freud wrote in his manifesto Some Thoughts on Painting (published in Encounter, III, no. 1, July 1954): "Painters who deny themselves the representation of life and limit their language to purely abstract forms, are depriving themselves of the possibility of provoking more than an aesthetic emotion."
And Andrews remarked in 1964, "we thought our responses to people and circumstances and life were more important than nursing some systematic idea of what painting was all about." Andrews studied painting at the Slade School of Art in 1949-53; Freud taught him, and Bacon visited Andrews's studio to discuss his work. Andrews was a Scholar in Painting at the British School at Rome in 1953, and played a part in the history of British cinema. Lorenza Mazzetti, a young Italian student at the Slade, cast him as the protagonist of her films K (1954, based on Kafka's Metamorphosis), and Together (1956, alongside sculptor Eduardo Paolozzi), the first example of the British Free Cinema.

Freud met Francis Bacon in 1944, and from then onwards they saw each other daily; over time, Bacon's bold and powerful way of painting would help the younger painter loosen up. In 1946-47, Freud went to Paris where he met Picasso and visited the studios of Alberto Giacometti and Balthus. The statement in Freud's 1954 manifesto Some Thoughts on Painting, that the painter's determination to "move the senses by giving an intensification of reality", can be understood in relation to Giacometti's and Balthus's tireless investigation of the human figure.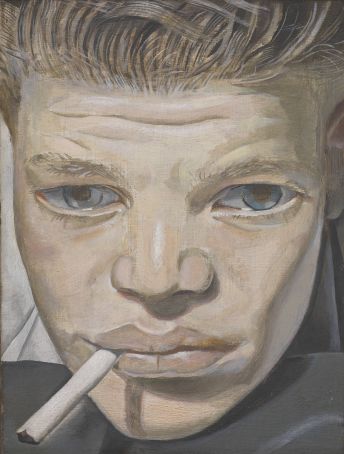 In the late 1940s and early 1950s, Freud painted painstakingly detailed portraits, somewhere between the optical objectivity of 15th-century Flemish painting and the merciless eye of German New Objectivity. Attention to the subject remained constant in both the early phase of Freud's work, when he recorded with stunning precision the subjects' skin tone and texture, pimples, hair, clothes in mostly small paintings, as well as in the mature phase when he painted on larger canvases and the brushwork loosened up and got bolder. Freud used long daily sessions with the sitters – some lasted many months – rather than photography in the preparation of his portraits.
Both phases of Freud's work are represented in the exhibition through images that are nervous and trenchant such as Girl with a Kitten (1947), Boy Smoking, and Girl with a White Dog (both 1950-51), or corpulent and assertive such as Standing by the Rags (1988-89), Leigh Bowery (1991), David and Eli (2003-04).
Born in Berlin in 1931, Auerbach was sent to England at the age of seven by his Jewish parents to escape Nazism. After the war, he studied painting at the same art colleges attended by Leon Kossoff (the son of Russian Jewish parents, he was born in London in 1926). The two young painters became close friends. In the wake of Bacon and Freud, Auerbach and Kossoff committed themselves to portraying people whom they knew intimately, with a thick impasto and often scraping the paint away and drastically reworking the canvas.
London cityscape
They also turned their attention to what surrounded them, such as the cityscape of London being rebuilt after the heavy bombing of world war two. Kossoff recalled in 1972: "Ever since the age of twelve, I have drawn and painted London ... the strange ever-changing light, the endless streets and the shuddering feel of the sprawling city linger in my mind like a faintly glimmering memory of a long-forgotten, perhaps never experienced childhood, which, if rediscovered and illuminated, would ameliorate the pain of the present."
Freud, Auerbach and Kossoff worked in close contact with their models; Andrews and Bacon used pre-existing images, photographs and, in the case of Bacon, images of sculptures, paintings by other artists, photographs of humans and animals in motion, illustrations, film stills taken from books and magazines. Their ways of handling the paint, however different, suggested or possessed a strong physicality and tactility. Bacon's work especially evoked living flesh, organic matter, and bodily fluids.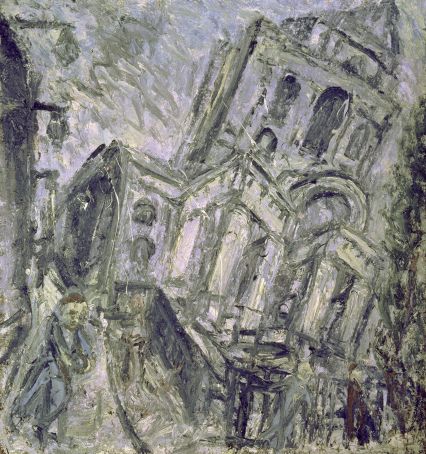 As Bacon stated in 1953: "Real painting is a mysterious and continuous struggle with chance – mysterious because the very substance of the paint … can make such a direct assault on the nervous system; continuous because the medium is so fluid and subtle that every change that is made loses what is already there in the hope of making a fresh gain." Scraping, erasing, painting over was also part of Auerbach's process (The Sitting Room, 1964). He stated in 1978: "I finish pictures again and again several times a day until finally it seems to me that it has got a little something."
Born in Portugal, Rego moved to London in the early 1950s, and studied at the Slade in 1952-56 under Lucian Freud, overlapping with Michael Andrews. Her early work showed a link with Surrealism, but by the late 1980s it had become more boldly figurative and narrative; the Tate Gallery exhibited, and then purchased, her series of drawings and the painting called The Dance (1988), showing women and men dancing in a moonlit landscape with the ominous presence of a fortress in the background.
Psychology
These six artists share a preoccupation with psychology, an engagement with the physicality of painterly matter, and a steady concentration on a subject, but individual strategies are rather distinct: the human figure, very often indoors and up close, and mise-en-scène for Bacon, Freud, and Rego; the exterior, the cityscapes, the broader views for Auerbach (Primrose Hill, 1967-68) and Kossoff (Christ Church, Spitalfields, Morning, 1990), with Andrews's work (Melanie and Me Swimming, 1978-79) somehow mediating between these polarities.
Review by Jacopo Benci
The exhibition runs at Chiostro del Bramante, Via Arco della Pace 5, until 23 February 2020.
This article was published in the November 2019 edition of Wanted in Rome magazine.
Cover photo: The Dance (1988) by Paula Rego, from The Tate.
General Info
Address
Arco della Pace, 5, 00186 Roma RM, Italy
View on Map
Bacon and Freud in Rome exhibition
Arco della Pace, 5, 00186 Roma RM, Italy