Rome exhibition offers new reading of Gentileschi's trailblazing artistic legacy.
By Andy Devane.
The stellar career of Italian early baroque painter Artemisia Gentileschi has long been overshadowed by her tumultuous life story, whose tragedies and triumphs continue to captivate the public imagination more than three and a half centuries after her death.
Artemisia Gentileschi e il suo tempo, a major exhibition currently at Rome's newly-reorganised Palazzo Braschi, places the focus firmly on the Roman artist's masterful artistic legacy and professional success in a male-dominated age. The show challenges the widely-held narrative that the rape of a teenage Gentileschi had an everlasting effect on her artistic output, leading to her modern-day interpretation as a feminist heroine. This reputation as a painter of powerful women is enhanced by her recurring depiction of figures such as Bathsheba, Cleopatra, Esther, Judith, Mary Magdalene and Susanna, many of whom feature prominently in Palazzo Braschi.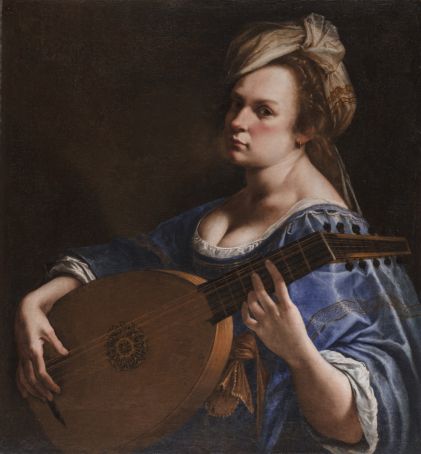 Comprising 29 Gentileschi paintings alongside 66 works by her peers, the exhibition illustrates the rich exchange of ideas and influences between artists working in Italy in the 17th century, underlining their various pictorial mechanisms such as expressive gestures, intimate scenes, dramatic lighting and luxurious fabrics.
The exhibition, which has taken three years to realise, features works on loan from museums and private collections around the world, and includes many Gentileschi paintings never shown in Rome before. The combined effect provides a comprehensive chronological overview – with very few gaps – of Gentileschi's prolific and powerful artistic career.
The exhibition aims to downplay several clichés attributed to the artist, according to Nicola Spinosa, the former superintendent of the Neapolitan Museums Network, who curates the Naples section. The first relates to the level of influence on her of the famous "and too often cited" rape, while the second refers to her "somewhat unquestioning reputation as a caravaggista", a reference to Caravaggio, a close friend of her artist father Orazio Gentileschi and a significant early influence on the young Artemisia.
The exhibition wishes to debunk the notion that Gentileschi was a "chameleon", simply "parroting the style" of other artists, according to the curator of the Rome section, Judith Mann of St Louis Art Museum. "She is much more complicated than that," says Mann, describing Gentileschi as a "very accomplished, very nuanced painter of narrative."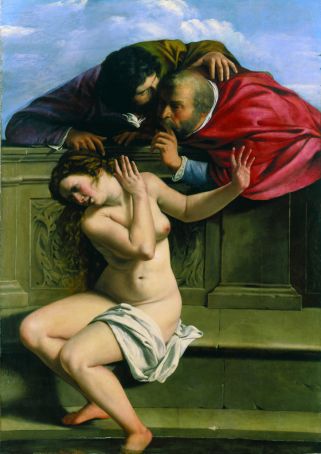 Born in Rome in 1593, Gentileschi was the eldest of five children, and only daughter of Orazio to whom she was apprenticed in her early teens following the death of her mother. In 1610, aged 17, she made her stunning debut with Susanna and the Elders, a focal point of the Palazzo Braschi exhibition. Describing it as an "exceptional achievement", Mann says that Gentileschi's use of a "full-frontal nude" to interpret a biblical tale was particularly daring during the Counter-Reformation era. The fact that this masterpiece was painted by a female, a teenager at that, during a time when women artists were confined to portraits and still lifes, was even more mould-breaking.
The Rome of Gentileschi's childhood was plagued by violence and crime, meaning she had little access to the city's cultural heritage and its hive of artistic production. The year after she painted Susanna and the Elders, Gentileschi began taking private lessons from her father's artist colleague Agostino Tassi, who raped the 17-year-old girl in her own bedroom. Nine months later Orazio took Tassi to court for reneging on his alleged promise to marry his daughter to "restore her dignity".
Gentileschi's trauma was compounded by a gruelling seven-month public trial in which she testified courageously against her abuser, a despicable character whose murky past included accusations of raping his sister-in-law and having his wife murdered by bandits.
Days after the trial ended, Gentileschi entered into a hastily-arranged marriage with the minor Florentine artist Pierantonio Stiattesi and moved to Florence in 1613. She painted Judith and her Maidservant Abra, another highlight at Palazzo Braschi, at around this time. Sword slung over her shoulder, Judith is unperturbed by the fact that she has just decapitated Holofernes whose head is carried in a basket by her maid. Mann points out that the heroine's "uncharacteristic" and decidedly masculine stance is, however, offset by her "pearl earrings and fabulous clothing".
Gentileschi's personal situation was worsened by a loveless union and the premature deaths of several children. However she countered this litany of misfortune with tenacity and talent, becoming the first woman accepted to the Accademia del Disegno. Florence also allowed Gentileschi to meet other artists of the day, such as Cristofano Allori who introduced her to influential figures including Cosimo II de' Medici, Grand Duke of Tuscany, while her patron Michelangelo Buonarroti the Younger helped her win prestigious commissions and acquainted her with the scientist Galileo.
In 1620 Gentileschi returned to Rome with her husband, her daughter Palmira and her lover Francesco Maria Maringhi, who helped her keep two homes on Via del Corso and Via della Croce. Notwithstanding the seemingly violent relationship with her father, she was now free to explore the capital as well as interact with her artist peers, notably French painter Simon Vouet, who was so impressed with her work that he painted her portrait, palette in hand.
It was around this time that she painted her most famous work, Judith Slaying Holofernes, another highlight at Palazzo Braschi. The piece is said to be inspired by Caravaggio's painting of the same theme, painted two decades earlier and on permanent display at Rome's Palazzo Barberini, although sadly it is not possible to compare both versions at the Palazzo Braschi exhibition.
While Caravaggio's Judith distances herself from the task at hand, her sword gliding effortlessly across Holofernes' neck as if through butter, Gentileschi has conjured up an infinitely more savage atmosphere. She presents a fiercely determined Judith, ably assisted by her maid, in the act of beheading the terrified Holofernes who is pinned to his bloodstained bed while blood squirts from his neck. The painting is a second, more successful version of an almost identical earlier work, which has just arrived at Palazzo Braschi after featuring in an exhibition exploring the influence of Caravaggio's art on the work of his contemporaries and successors at London's National Gallery.
During her time in Rome Gentileschi's prowess as a portrait painter continued to develop, as evidenced in paintings such as Ritratto di Dama con Ventaglio, a commanding portrayal of a grandiose lady with a fan and velvet finery, from the collection of the Knights of Malta.
In 1630 Gentileschi moved to Naples, making her Neapolitan debut with the celebrated Annunciation. The painting was influenced stylistically by Massimo Stanzione, who was working in the city at the time along with other important artists such as Jusepe de Ribera and Domenichino. Here an unusually un-virgin-like depiction of Mary pales almost into insignificance compared with the overpowering angel Gabriel in the foreground, another painting that shows Gentileschi was ahead of her time.
In 1638 Gentileschi travelled to London, apparently at the invitation of Charles I, where she joined her ailing father at the Stuart court. She worked closely with him on paintings for the ceiling at the Queen's House, as well as undertaking numerous other works before his death in 1639, while remaining in England for a further year or two to fulfil her commissions. Most of her London works were dispersed in the sale of crown assets after Charles was beheaded in 1649 and her only identifiable work still in the Royal Collection today is Self-portrait as the Allegory of Painting, not part of the Palazzo Braschi exhibition.
Little is known of her movements after her eventual return to Italy. The Palazzo Braschi show concludes with a later version of Susanna and the Elders, painted in 1652, when the artist was in her final years. Unlike the early work, here Susanna holds her head high, appearing to rise above the schoolboy whisperings of the Peeping Tom elders.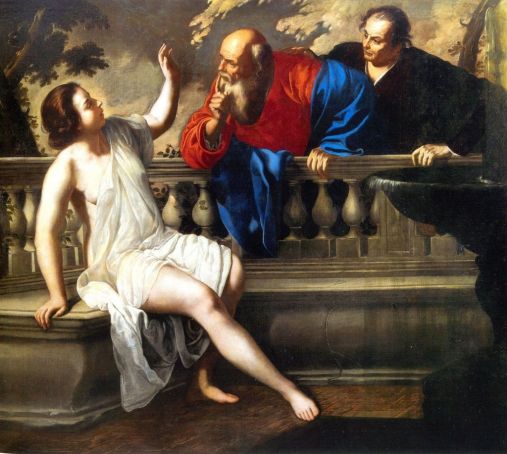 Records indicate that Gentileschi worked in Naples until her death, the exact date of which is unknown but is believed to have been in or around 1656.
Much like Caravaggio, Gentileschi was largely forgotten until the 20th century. Renewed interest in her work was sparked in 1916 when a research paper by Italian art critic Roberto Longhi described Gentileschi as "the only woman in Italy who ever knew about painting, colouring, doughing, and other fundamentals". Interest grew further in 1947 following the publication of Artemisia, a fictional account of Gentileschi's life by Longhi's wife, Anna Banti.
Mann describes it as a "phenomenon in the history of art that we understood Gentileschi's life far earlier than her painting." However, for a painter who in modern parlance 'shattered the glass ceiling', the gender gap on the art market between father and daughter Gentileschi remains substantial. In January 2016 the painting Danae by Orazio was bought at auction in New York by the Getty Museum in Los Angeles for more than $30 million. Two years earlier, Mary Magdalene in Ecstasy by Artemisia was sold at auction in Paris for €865,000.
The Gentileschi exhibition represents a significant step upwards in the programming of Palazzo Braschi, and comes after the management of the Scuderie del Quirinale recently passed to Italy's culture ministry. The move means that Palazzo Braschi, which overlooks Piazza Navona, now plays a more prominent role in the capital's cultural scene.
Featuring no less than 15 severed heads, this magnificent exhibition showcases Gentileschi's drama, violence and superb artistry, providing a triumphant return for the pioneering and fearless Roman artist.
This article was published in the February 2017 edition of Wanted in Rome magazine.
The exhibition at Palazzo Braschi, Piazza di S. Pantaleo 10, can be visited until 7 May, see website for details.