Alice Pasquini creates street art in her native Rome and in cities around the world.
Federico Borzelli
Like Hop-o'-my-Thumb leaving pebbles to mark the path, Alice has spread her works across the world. But just as in Charles Perrault's fairy-tale, the artworks lead back to Rome, where the artist was born 36 years ago. Since she was a child, Alice has always drawn children, cats or teenagers in an intimate, dreamy atmosphere in her diary. But the pages became a confining limitation, and she couldn't resist coming out and sharing her fables with everyone around her. Her journeys took her around the world, painting on house walls to create an art gallery without borders. Back in Civitacampomarano, the village in Molise where she was director of the CVTà Street Art Festival, we interviewed her.
Art galleries and museums have brought your artwork indoors, and in some cases street art has been auctioned. The art market has recognised the monetary value of street artists. How do you feel about that?
What's in the spirit of street art, and what isn't? Is anything painted in a frame a painting? Or just because it's in a frame, is it therefore not in the spirit of an avant-garde artistic movement? I don't think this evolution of a movement is a change for the better or for the worse; it's just a fact of life. Maybe the artist's own intentions have changed, too. I think anyone setting out to create street art today hopes to take part in the big festivals, to be shown in galleries, to appear on the covers of art magazines [see cover of September issue of Wanted in Rome] – all aims which at one time weren't imaginable or even aspirations, it used to be just an act of pure creative generosity.
Street art for decades was a synonym of vandalism, while today it's become a phenomenon that even the institutions have accepted, making spaces available, whole housing blocks or abandoned buildings, so that – thanks to these initiatives – many suburban areas have been revalued and little-known villages have come to the notice of the public. And yet artists, including you, have been sentenced and fined. How do you see this contradiction?
The time for galleries, for auctions and for investment by the institutions has been here for quite a while now. But if on the one hand street art seems to have lost its rebel spirit, sadly the time for condemnation is by no means over. On the other hand, if an artist is invited and paid to create a mural, we shouldn't really be talking about street art but rather of muralism. In this case nothing is left of the spontaneity typical of this art form. Frankly I don't see what the rules or professional ethics of a "writer" could be; there's still a lot of confusion. How can we define it, for example? Free expression? Vandalism? Post-graffiti? Street Art? Art? I don't think Banksy would call himself a "writer", and I think some experiences are closer to conceptual art or happenings than to the hip-hop culture. I also don't think the appearance on the scene of would-be curators or walls painted on commission is always a good thing. Who's going to decide whether this one is an artist and the other one not? And if it's only somebody with money who decides, what's the difference to centuries ago when frescoes were commissioned? There's still a long way to go, and if it's true that art speaks to the future, then it will all become clear in the coming years.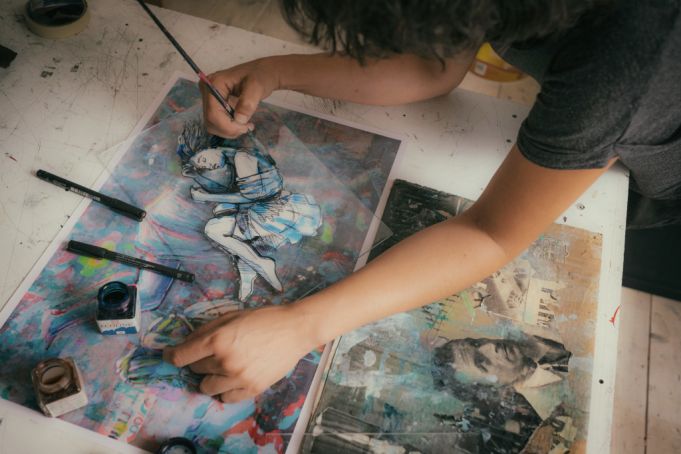 William Kentridge says his Triumphs and Laments mural along the Tiber will only be completed once time has left its mark on the work. Street art is obviously at the mercy of atmospheric effects and doesn't claim to be eternal. Do you agree with the South African artist?
Creativity on the street is influenced by many things: the light and colours of the surrounding environment, by the people who pass by and react, but also by the vulnerable surface of the artwork. For me a painting belongs to the place where it was conceived, and it's very interesting that it evolves like the city evolves once I've gone away.
You pay more attention to sentiments and emotions than other street artists; your images look like photos in a family album. But this very intimate universe is stuck on a wall and the contrast is striking. Is this a provocation of yours?
It's a necessity more than anything else. In a world dominated by cynicism I'm interested in the moments of life which are universal, concepts that don't change over time, that aren't changed by the distance from Moscow to Sydney. I describe everyday moments, instants that represent life for me. I really think the true magic of life is to be found in the way we live each single moment. For example, the chance meeting with a work of street art becomes an intimate and surprising moment for the passer-by.
The protagonists of your works are mainly children and adolescents. Who are they?
Every wall I paint takes its form in one of the very many sketches I always carry around. My sketch-book is my log-book, a collection of thoughts and emotions that I can then later re-create on a larger scale. Travelling is the fuel for my research based on comparison and exchange. My personal point of view inevitably makes me take a feminine perspective. As an artist I'm interested in investigating human feelings, exploring them through my emotions. This is why there's always a subconscious autobiographical motivation beyond the choice of a particular subject or of a story to tell.
You've painted all over the world, your collection is spread over many towns. What relationship do you have with your artwork?
I'd call it a complicit but not a possessive relationship.
Is there one of your works you're particularly attached to? If so, which one, and why?
I've painted on over 2,000 walls in many, many countries. The work I like most is always one in my latest journey, but the satisfaction doesn't last long. This means I'm always motivated to do something new every day. Painting is my way of staying alive.
Experimentation is an essential part of your career. After painting murals you presented a work in 3D. How did that project start? Would you do it again, or is that a phase that's now over?
Under Layers is a project that's still a work in progress, born in collaboration with the photographer Stefano C. Montesi. We wanted to create a captivating experience, a journey inside a painting, somewhere between illusion and reality, going beyond the limits of a wall for the pictorial representation of subjects in two dimensions. The 3D effect is created by photographing the subject, in this case my paintings on various levels, with two cameras at the same time. Only a live shoot, and not a 2D to be converted later into 3D, can guarantee the impact of stereoscopic vision for the human eye. The images are hung at different levels and the viewer has the impression of playing an active role in the artwork. The posters are pleasant on the eye even without glasses, but when they are viewed through anaglyphic 3D glasses they are transformed into a world that comes out of the wall and blurs the line between reality and fantasy.
What advice would you give to a young artist just starting out?
Use your head.
Is there an artist you feel particularly close to?
I admire many contemporary artists, but often the ones I admire the most have little to do with my work. Walking into a Palladian villa decorated by Veronese was certainly an event which profoundly shook my perception of art.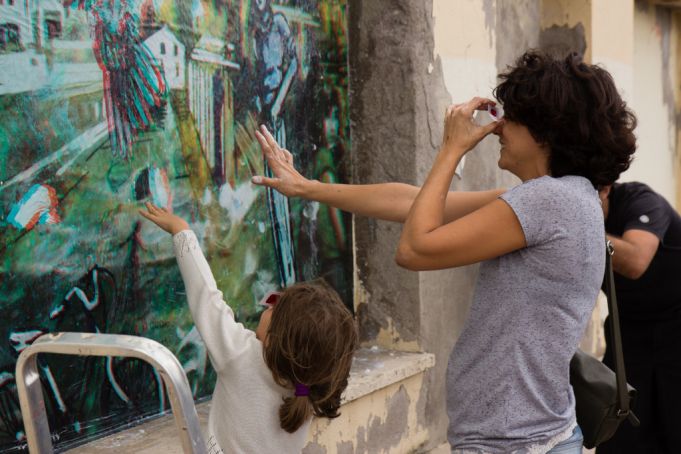 What were your most recent projects?
In April I held a personal exhibition called I'mperfect Tense in the 44309 Gallery in Dortmund, Germany, followed by a mural in Salamanca, Spain in June, and murals commissioned by the Italian Volleyball Federation, with permission from ATAC, at the Due Ponti train station in Rome. In July I painted a large mural in Pombal, Portugal, at the invitation of the Festival Sete Sóis Sete Luas.
SIDE NOTES
Some of Alice Pasquini's best known Rome murals:
Pigneto: Ex-Circolo degli Artisti (exterior wall), Via Casilina Vecchia.
S. Lorenzo: Via dei Sabelli (between Via degli Ausoni and Via dei Sardi).
Quadraro: Via Anton Ludovico Antinori.
Flaminio: La Birretta, Piazza Mancini.
Montesacro: Via Monte Meta 21.
Villa Bonelli: Via Camillo Montalcini.
Cinecittà: Via Stefano Oberto.