A doll restoration workshop in Rome showcases Italy's tradition of craftsmanship.

A fine tinkle resonates when you open the door to Le Bambole di Testaccio, a small bottega (workshop) on Via Luca della Robbia. Inside the shop, on high shelves, in glass display cases and on small wooden tables stand porcelain dolls, Venetian masks, jewellery, snuffboxes and carillon musical boxes. The place breathes the atmosphere of a tidy theatre prop room.

Artists Gianni and Eliana Ranaldi are welcoming from behind the counter. "The interview, right?" asks Eliana, an elegant woman wearing a black dress. "Our daughter told me about it."
The fine tinkle sounds again: two women enter the shop. Eliana greets them by their first names. The women come for a repair Gianni did. It is getting crowded in the small shop; I ask whether I am disturbing them and perhaps I should come back later? "No," Eliana says, "not at all." She takes a glossy book from the counter. "Look. We're the only ones who got three pages!" The book is a Japanese travel guide. "Of course I can't read it," she says referring to the Japanese text, "but what they write about us must be positive, don't you think?"
Hippy couple
Eliana goes behind the counter and points at a black-and-white portrait of a young hippy couple. "We married very young," she explains.
When the couple married in 1972, Eliana was 15 and Gianni 22. Irene was born a year later. The family lived with Gianni's parents in Vicolo del Fico, near Piazza Navona, at the time a real local neighbourhood.
They sold their creations in the Porta Portese market and its alternative locations on Via Sannio, Piazza di Spagna and Piazza Navona. All artists who sold their work in these squares were young, poor and self-taught. "You have to be like a musician who can play by ear and can play a tune he just heard," Eliana explains.

Yet the police frequently raided the squares. "You can't remember the anni di piombo," [the period of left- and right-wing politically motivated terrorist attacks in the 1970s] she says. "Ti ricordi?" she asks a customer who has just entered the shop. The man, a collector, agrees. While hearing Eliana talk, one senses that she has told her story before.
Sense of solidarity

She remembers there was no competition, since every artist created something different. On the contrary, there was a sense of solidarity: Italian artists sold the creations of their foreign peers – mainly Chilean exiles – who were not allowed to sell their work in Italy. She wonders: "Do young people still stand up for each other?"
Shop owners, for example those on Via Dell'Orso, knowing that arts and crafts would boost their sales, used to invite artists to street markets. Eliana says that if a shop owner were to ask her to organise a street market today, she would not find enough artists.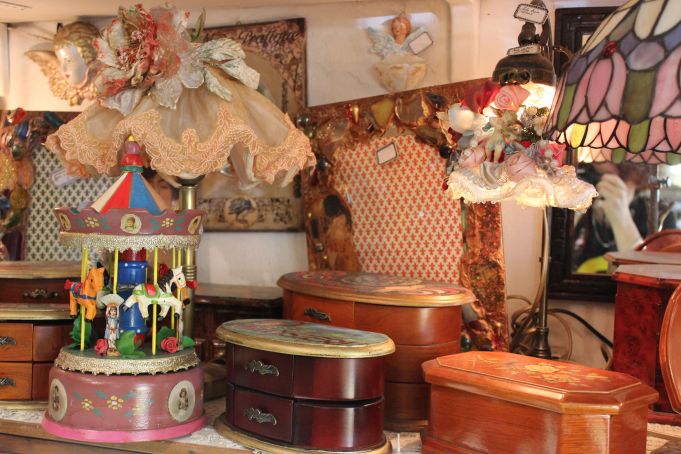 In the mid-1980s the artistic level of the Piazza Navona scene started to deteriorate. "Have you seen the square recently?" she asks. "I never go there anymore." Hence, Gianni and Eliana founded Consart (Consorzio degli artigianati). The consortium organised temporary exhibitions in what were then the dim underpasses of Piazza Colonna on Via del Corso – "people went there to pee" – and what is now a luxury shopping mall. It was Eliana who coined the term sottopasseggiare. "I invented the word," she says with a smile. "You can jot that down."
From high shelves, dolls in elegant outfits, each with a different expression in its eyes, stare down at the customers. In a 2006 television interview, Eliana explained she learned a lot from the nuns who ran the school she attended in the Portuense district and from her grandmother, who taught her how to make a doll's dress.
Eliana restores antique dolls made of porcelain, celluloid – popular in the Fascist era – and papier-mâché. Her pièce de résistance is the meticulous restoration of a 1.5m-tall antique Sicilian Moor made entirely of wood. When repairing, she carefully studies the object. The eyes and the eye mechanism are the hardest parts of an antique doll to restore. She distinguishes restoration from creation. For her own creations, Eliana prefers natural materials like cotton and silk to artificial materials like nylon and plastic. Every doll is a unique piece; there are no series.
Dolls and statues
Besides antique dolls, Gianni and Eliana also restore religious statues, mainly statues in plaster that the Vatican restorers have not accepted. "You have no idea how much art is crumbling inside churches." When Gianni and Eliana restored a statue for the church of S. Saba, the churchgoers collected the money for the restoration.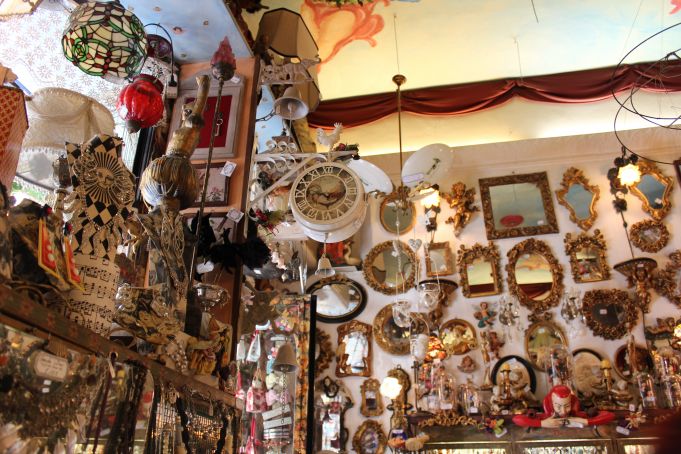 Eliana points at a beautiful Venetian mask. She tells of an Italo-American woman who likes traditional costumes and combines them with Venetian masks. The collector comments that the other day he was in Venice. In Burano he spotted "Made In China" and later, in the centre, he was ripped off in a restaurant. When I remark that also in Rome's fashionable Monti area, restaurants and wine bars are replacing restorers and antiquaries, Eliana sighs. "Nowadays one only sees restaurateurs," she says, and clarifies: "Restaurateurs, not restorers."

Though near retirement, Gianni and Eliana do not have an apprentice or someone who would continue Le Bambole.
"Young people want to learn," Eliana says, "but youngsters who now design jewellery don't see themselves still designing jewellery 20 years from now." She assumes that young artists do not want to take the risks that go with entrepreneurship.
Testaccio

Gianni and Eliana set up shop in 1988. At the time, Testaccio was an industrial neighbourhood whose industries were shutting down.
"People said we were mad opening a store like this in a neighbourhood like Testaccio. But the day the shop opened its doors, people were queuing!"
It was in 1998, during a Christmas fair in the Galleria Colonna, that Le Bambole had its most successful day. Gianni was manning a stand while Eliana attended the shop. However, the demand was such that by the afternoon Gianni had to abandon the fair and return to the shop where Eliana had run out of stock.
Customers are mainly local and all are over 40. Eliana explains: Older customers often have a family heirloom they would like repaired, but the younger generation buy a new doll for their grandchildren.

Both Cinecittà and Hollywood consult the Ranaldis for props. Many movie and theatre actors moved into the area in the 1990s and have become regular customers. In Testaccio, trendy bars, restaurants and the new market all breathe the slick "Made in Italy" image. Since 2000, the neighbourhood houses the Istituto Europeo di Design on Via Alcamo, near the former slaughterhouse. According to daughter Irene, Italy nowadays is all about design; craftsmanship is disappearing. She says "vintage" is where high and low culture meet. For instance, Gianni once made a tie out of a Coca Cola can.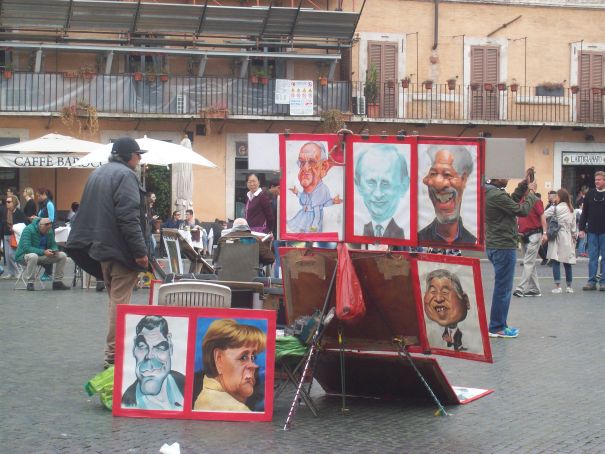 Eliana complains that amid the upmarket apartments and terraces, artists' stalls are exhibiting Roman street views and celebrity portraits. Yet the street views are on pre-printed paper and the portraits are tacky caricatures, she says.
Rome's city government has been trying for years to regulate the artists in the square and is now trying again. It recently announced that it will set up a commission to judge the artistic merit of those applying for permission to display their art in public spaces.

On Corso Vittorio Emanuele II, passing one souvenir shop after another, it is easy to understand why Gianni and Eliana remain in Testaccio and that they would never trade for a more central, tourist location. In the 2006 TV interview, Eliana stated "I don't aspire to own things."
She creates them instead.
Mike Dilien
This article was published in the June 2017 edition of Wanted in Rome magazine.