Holocaust victims remembered in Rome 71 years after liberation of Auschwitz.
Numerous memorial events are being held in Rome to mark International Holocaust Remembrance Day on Wednesday 27 January.
Established in 2005 by the United Nations to commemorate the day in 1945 that the survivors of Auschwitz concentration camp were liberated by the Russian army, the initiative honours the memory of the millions of Jews – but also homosexuals, Romany people and others – who suffered persecution, deportation, imprisonment and genocide.
Events taking place in Rome are based mainly at the Casa della Memoria e della Storia, in Trastevere, which dedicates a free programme of films, documentaries, interviews, lectures, readings, book presentations and an exhibition, from 22 January until 1 February.
There is also an exhibition dedicated to Anne Frank at the Casina dei Vallati, an administrative building in Rome's Jewish Ghetto, while the Auditorium Parco della Musica stages a special concert with the music of Arturo Toscanini entitled Il potere della musica, with free entry, at 20.30 on 27 January.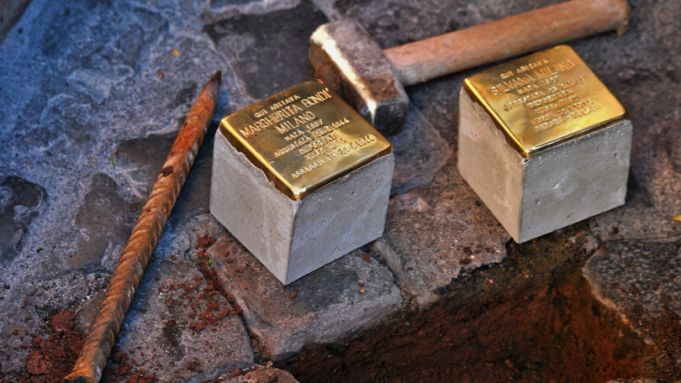 The latest batch of brass cobblestone-sized memorials commemorating victims of the Holocaust were recently installed on several streets around the capital: Via Gallia in the S. Giovanni district, Via Po in the Salaria neighbourhood, Via della Cava Aurelia near St Peter's, Viale Giulio Cesare in Prati, and Via della Reginella in the Jewish Ghetto.
Known as stolpersteine in German, or literally translated "stumbling stones", the memorials are the work of Berlin artist Gunter Demnig. The plaques are installed outside the last chosen place of residence of victims of the Holocaust, detailing their first and last names, date of birth, date and place of deportation, and date of death in a Nazi extermination camp.
There are now 237 such memorials in Rome, with new plaques added each year.
See related article.