Hundreds missing.
Italy's news agency ANSA is reporting that about 300 people may have been saved from a boat off the coast of Libya carrying 700 immigrants heading for Italy.
The captain of the Irish rescue vessel, the Niamh, which was the first on the scene on Wednesday 5 Aug morning, fears that many will have drowned. It could be that the boat overturned when those on board moved from one side to the other on the arrival of the rescue boat.
Several Italian coast guard boats have been sent to the scene as well a Medicins Sans Frontieres vessel.
So far the Niamh, which is on patrol in the Mediterranean under the command of the European Union Triton mission, has rescued 1,280 immigrants since it took over from its sister boat the Eithne at the beginning of August.
The International Organization for Migration (IOM) has reported that over 2,000 immigrants have already been drowned in the Mediterranean this year compared with 1,607 during the same period in 2015.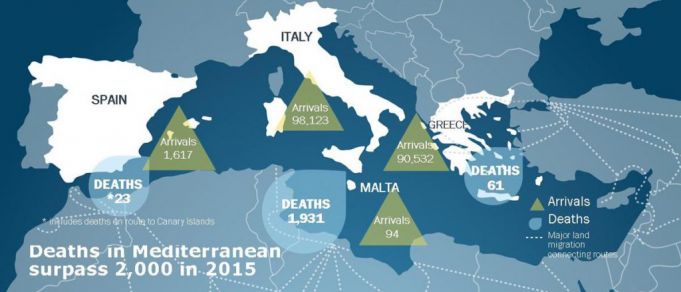 Illustration from IOM website