Rome refugee centre holds solidarity events
Rome's Joel Nafuma Refugee Center (JNRC) is collaborating with the Jesuit-run Centro Astalli refugee centre to hold a prayer flag project followed by an interfaith vigil entitled Migrant Lives Matter on Friday 24 April.
Both events will be held at the American Episcopal Church of Rome, St Paul's within the Walls, whose crypt is home to the JNRC.
The prayer flag project takes place first, from 16.00-19.00. Guests are asked to bring a piece of fabric to help create a giant peace flag which the centre will display from the church tower, as a symbol of its efforts to "welcome the stranger and honour those we have lost."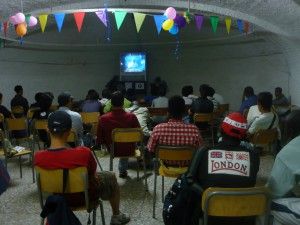 For the interfaith vigil at 19.00, participants are invited to bring candles to honour the refugees who have died this year crossing the Mediterranean. The United Nations High Commissioner for Refugees (UNHCR) estimates that up to 1,600 migrants have died this year alone trying to reach Europe. The JNRC says: "Each of these lives matter. As do the lives of those that survive the journey and arrive in Europe."
The prayer vigil in Rome comes just days after at least 800 migrants died when their boat capsized off the Libyan coast on 19 April, in what the UNHCR describes as the "deadliest incident in the Mediterranean we have ever recorded."
It is thought that there were about 850 people on board, including 350 Eritreans as well as passengers from Syria, Somalia, Sierra Leone, Mali, Senegal, Gambia, Ivory Coast and Ethiopia. Only 28 are known to have survived.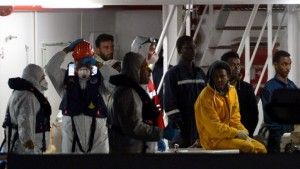 The ship's captain, a 27-year-old Tunisian, was arrested on suspicion of multiple homicide, while another crew member, a 25-year-old Syrian, faces charges of engaging in illegal migration.
On 20 April the UN refugee agency welcomed European Union plans to tackle the immigration crisis in the Mediterranean, but stressed that saving human lives at sea should remain the priority.
The JNRC was founded at St Paul's within the Walls in 1995 and welcomes around 200 guests each weekday, from 08.30 to 14.00. For more details see website.
See related article.
Joel Nafuma Refugee Center (JNRC), Via Napoli 58 (corner Via Nazionale), tel. 064883339.