Soldier's letter reaches his family 78 years after he died on the battlefield in Russia.
A letter written by a young Italian soldier on the Russian Front during world war two has been delivered to his niece 78 years after his death on the battlefield.
The 23-year-old Lieutenant Vincenzo Fugalli wrote to his parents on Christmas Eve 1942 but the letter would never reach his home in Barletta, in Italy's southern Puglia region.
"This is Christmas Eve... in the shelter next to mine they are singing the Pastorella and they even forget the rations that are late in arriving" - wrote Fugalli - "Outside it is snowing hard, you can see that the Christ Child must be born here too, the environment is as favourable and evocative as could be."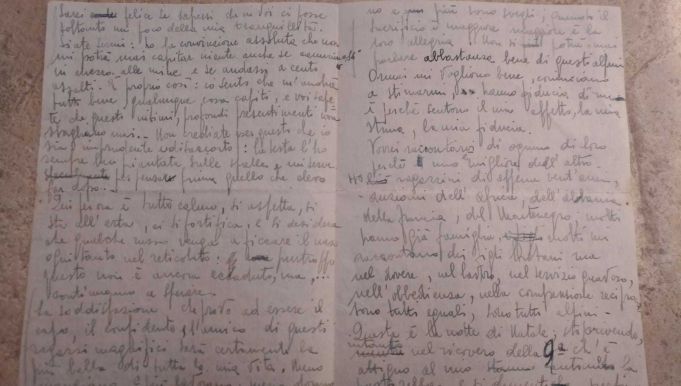 The young soldier tells his family not to worry, assuring them of his conviction that "nothing will ever happen to me even if we walk in the midst of mines and if I go on a hundred assaults."
He writes of his pride in his "magnificent" fellow soldiers, saying that the satisfaction he feels in being their "boss, confidant and friend" will "certainly be the most beautiful of my entire life."
A month later Fugalli was killed during the Battle of Nicolajevka, part of the larger Battle of Stalingrad, in a breakout involving the Alpine regiment of the Italian 8th Army on 26 January 1943.
The letter was subsequently found in Russia by an Italian war veteran, Tino Davini from Mantua, who kept it in a book.
By chance his daughter Olga opened the book and stumbled upon the letter, prompting her to seek out the soldier's family.
With the help of the media and social networks, she eventually tracked down Fugalli's niece, continuing her father's work of returning the bodies and personal effects of Italian soldiers from Russia.
The letter, of priceless sentimental value, was presented to Serena Fugalli yesterday at a ceremony in Barletta whose mayor Cosimo Cannito hailed Davini's work as "a mission charged with humanity."
General Info
Address
76121 Barletta, Province of Barletta-Andria-Trani, Italy
View on Map
Lost letter from Italian soldier killed in world war two delivered after 78 years
76121 Barletta, Province of Barletta-Andria-Trani, Italy