An immigrant with high hopes of El Dorado soon finds that his life has become a modern form of slavery
by Mike Dilien
"I can't take it any longer but I have to go on," Juan shrieks. "Look!" The fragile man shows his hands. "I've bitten off all my fingernails. Tonight, when Ángel returns, I'll have to get up and prepare him something to eat."
Juan and Philip are in a dark basement apartment near Piazza Euclide.
"A year ago, a couple invited me to Rome," Juan says. 'The spouse is from my village in Nicaragua. I was to become their domestic. So I left my job. To pay for the ticket I had to sell my car: a Ford Escort." He sighs. "I worked my entire career for that car."
"So what happened?" Philip asks.
"She lost her job, so they couldn't pay me and could only give me food and shelter. I couldn't send any remittance. Therefore, I started working for other households."
"The couple never paid you?"
"No. I still go to see them to claim my money, or at least some of it."
Philip looks baffled. "Where did you stay?"
"With a friend. But I couldn't stay long: my visa had expired."
"You mean you became…"
"Illegal. Yes." Juan looks away.
"So you had to move again?"
"Actually, I became homeless." He pauses. "I slept in Tiburtina station. You don't know how dangerous that place is at night."
Philip, a freelance reporter, had interviewed Ángel, an alluring Cuban, and he now stays at Ángel's whenever he is in town.
"Juan, how did you end up here?"
"Through Pedro, also a fellow villager of mine."
Philip had met Pedro once. His family expects him to send euros back home but all he does is party with Ángel.
Pointing at some clothes that lay neatly ordered on the floor, Juan remarks: "Everything I have has been given to me."
"But didn't you also work for other households?"
"Not now. Ángel doesn't let me go. I now do his cooking, laundry and ironing. I hardly leave this place. Now and then I may join him at a restaurant."
"I noticed there is no food in this apartment."
"Ángel is always on a diet! So I have to go to a charity for food. But after a night out he eats it all. The priest at the charity likes me but I can't ask him to let me clean the church. A Peruvian woman does that and she has a young child. I cannot take her job.
"Being poor isn't the worst," Juan continues; "being humiliated is. Ángel, who didn't finish school, enjoys asking how an accountant like me can be such a muerto de hambre. He thinks the same of Pedro. But what I really can't stand…" He gets up. "What I really can't stand is that even Pedro bosses me around."
He switches the computer on. "Fortunately friends are helping me out to buy an airline ticket." He shows me cheap flights to Nicaragua.
"When are you going back?"
"I haven't confirmed the ticket yet," he says. "I might get a job in the bar where Ángel takes breakfast."
"What?" Philip frowns. "Despite all this?"
"I must earn money. Otherwise, what will people say: He left with two suitcases and came back with one?"
He shows Philip his Facebook profile. Every picture shows Juan in a restaurant or a bar. One would say Juan's life in Rome is a rollercoaster of dinners and happy hours. The pictures are taken on the two occasions he went to the historic centre.
Voices arise from the corridor. Juan leaps up. "Is he back?"
"No," Philip calms him. "Those are the students who live at the other side of the hall."
"Ángel doesn't trust them. He says that Italians spy on him. Did you know he always asks what you and I have been talking about?"
"Does he? I see," Philip says. "So whereas he makes good money, he leaves you starving?"
"Yes. Pedro once confided to me that he might denounce Ángel."
"That would be a terrible thing to do," Philip says. "Sheltering an illegal is a serious offence. Ángel could lose his refugee status and you would be sent to the Ponte Galeria detention centre."
"Ponte Galeria?" Juan looks perplexed. "When Ángel goes out of town with a client I cannot stay here. One night at Tiburtina station two policemen asked me for my papers. One of them was nasty. The other, a woman, pitied me: while her colleague was checking other immigrants, she pretended she was taking my data."
"You have been lucky."
He nods. "In the streets I run into Latin American women who nurse elder Italians. We silently recognise each other. I have become very humble here. I have learnt to respect people."
"Juan, I also will help you out. Please confirm that ticket. Forget about the job: they'll tuck you away in the kitchen. You wouldn't see the daylight."
"Thanks." He hesitates. "You decide who your friends are. Though Ángel has already paid the electricity bill, he'll ask you to pay it."
Suddenly, a key is turned in the front door. Ángel appears. "Guess what? Pedro got in a row." He giggles. "He was kicked out."
Pedro, half-drunk, is a wreck.
"I had such a great night," Ángel says. He counts a handful of bank notes: "This frocio was very generous."
"Ángel," Philip says, "Juan told me about his problem. I think I've solved it."
Ángel raises his head. He rushes at Juan and shouts in his face, "You moron!"
Philip keeps calm. "Come on. Let's celebrate. I've bought food and wine. Aren't you starving?"
Ángel regains his composure. He smirks. Then he turns to Pedro: "Pedro, lay the table, open the bottle of wine and start boiling water. Now!"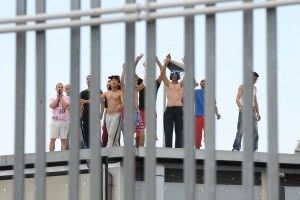 Immigrants from Latin America
In 2010, 4,570,317 immigrants were registered in Italy, 354,186 from South America. (Istat)
Contrary to nationals from African countries, Latin Americans can enter Europe on a tourist visa valid for three months. European airport authorities only ask for a visa and a return ticket. Latin Americans who intend to stay in Europe do not take their flight back and, after three months, go underground.
Remittances from Italy abroad
$12.9 billion left Italy in 2009, $13 billion in 2010 and $11.6 billion in 2011. In 2011, $817 million left Italy for South America. (World Bank)
Ways of sending money abroad
Most immigrant remittances leave Italy through Western Union. Only Brazilians use Ria.
This article was published in the 7 August 2013 edition of Wanted in Rome.