21 March. Wanted in Rome's guide to the best places to watch the final Six Nations rugby matches
The winner of the 16th edition of the Six Nations rugby tournament will be decided on Saturday 21 March, as thousands of Welsh fans descend on Rome ahead of the Italy-Wales game at the Olympic Stadium at 13.30.
Later that day the Scots face the Irish in Murrayfield at 15.30 (Italian time), while at 18.00 (Italian time) England meets France in Twickenham at 18.00.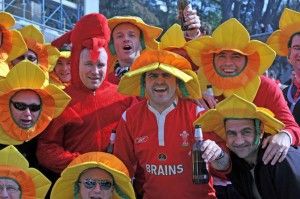 Ireland began the tournament in February as favourites to retain their championship title but, after losing to Wales in Cardiff last week, the Irish team is now second on the scoreboard after England.
With just one round of games remaining in the championship, four teams – England, Ireland, Wales and France – all have a chance of winning the Six Nations.
Wanted in Rome highlights some of the best bars in the city to watch this weekend's matches in the annual rugby union championship which is contested by England, France, Ireland, Italy, Scotland and Wales.
The biggest screens are guaranteed at Scholars Lounge and the Druid's Rock; for lively atmosphere (particular for the Italy game) head to The Shamrock or Camden Town; while the city's English, Irish, Welsh, Scottish and French rugby fans can be found mingling with Italian regulars at pubs such as the Fiddler's Elbow, the Druid's Den and Finnegans.