Rome pub raises funds for cure and treatment of prostate cancer.
27 Nov. Once again the Shamrock pub near the Colosseum is supporting Movember, the global initiative to raise awareness and funds for the cure and treatment of prostate cancer and other diseases that affect men.
Signing up to Movember means growing a moustache throughout November, to help "change the face of men's health" by encouraging public discourse about an issue that many men often ignore or do not discuss.
The movement has a firm following among Rome's rugby players and their friends, whose unofficial headquarters off the pitch is the rugby-mad Shamrock.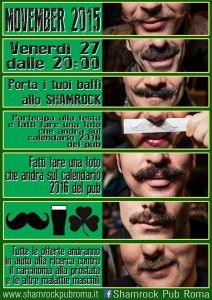 The pub has been involved in the initiative since 2008 and this year its Movember party takes place on Friday 27 November, from 20.00. Moustachioed revellers can have their photograph taken for inclusion in the pub's 2016 calendar, and all donations go directly to the Movember Foundation.
For full details see Facebook event page.